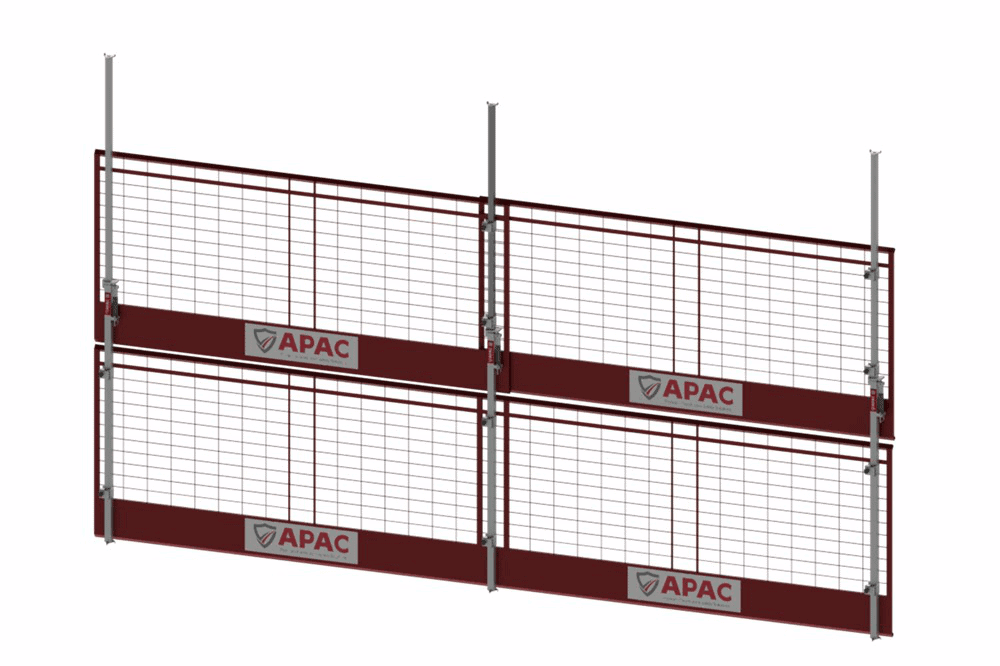 Welcome To APAC BUILDERS EQUIPMENT
Compression Post Edge Protection
The compression post is a collective fall protection device, that is used for securing edges between concrete slabs and other situations on construction sites. The system can be used in conjunction with edge protection barriers for full coverage. The toeboard of the mesh barrier prevents debris and material from entering or leaving the floor.
Features:
Not anchored or bolted — just relies on friction or compression fixings between the floor and the soffit.
Fast Installation & Labor Saving — Extending the inner pipe to the ceiling and activating the compression function with a foot pedal makes the compression post easy to install.
Components OF Compression Post
Slab to soffit compression for heights between 2.4m (8′) to 3.5 m (11'6″).
Hot Dipped Galvanized.
Compression Post Barrier Clip
The slider hook is a strong but light attachment can be adjusted to any position on the Post.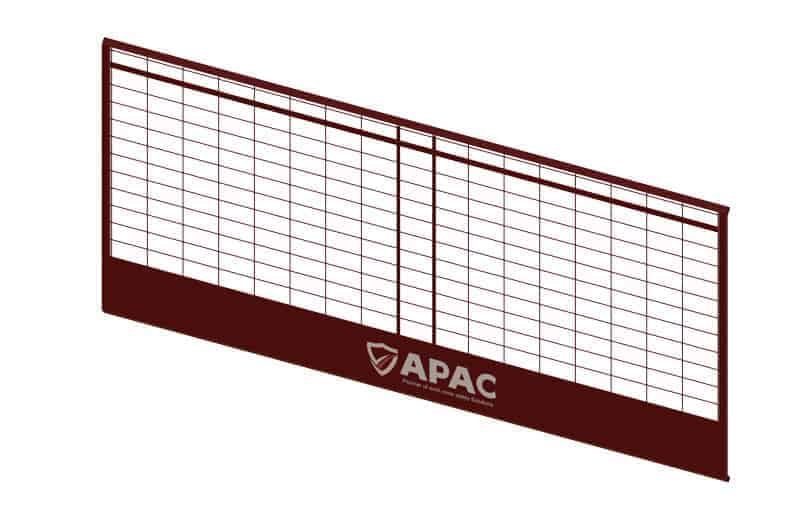 2.6m Safedge Mesh Barrier
1.2m high and 2.6m long. Galvanized mesh and frame, powder-coated for durability.
2.9m Safedge Mesh Barrier
1.1m high and 2.9m long with 4mm wire thickness. More lengths can be customized
3D DISPLAY OF Compression post Edge protection
The compression post edge protection system offers a smart solution for barrier height adjustment when used in combination with the barrier. It is used to provide similar edge protection to the anchored or bolted methods, but employing a different, faster, fixing principle. They are mainly applied to concrete frame applications, but fixing to some steel frames can also be provided.
APAC compression post is designed to be a quick height adjustment from 2.4m (8ft) up to 3.5m (11.5 ft)maximum, the integrated pressing device makes it easy compression adjustment. When installing the compression post, a level indicator aids precise vertical rigging.
All APAC compression post conforms to EN 13374, COHS,  OSHA, and ANSI.
advantages of apac compression post edge protection
No tools required, faster installation.

There is a choice of double-height or full height mesh panels.

Powder-coated steel raw material designed for long-term use.

Product compatibility with other brands.

This system can be recycled compared to traditional guardrails, providing additional savings.

Dense meshes (50x50mm/150x75mm) or customized dense meshes with high stability.

Personalized logos for your company's products.
Comprehensive Installation Support
At APAC, we understand the importance of clear and comprehensive installation instructions for our edge protection products. Therefore, in addition to written documentation, we provide a range of resources to facilitate the installation process. These include installation videos, PDF documents, and online instructions from our team of engineers.
installation videos
PDF documents
online instructions with engineers
Four steps to settle a compression post:
Step 1: Slide the adjustment handle up till the ring is at the compression post desired location,  then extend the inner tub till the anchor plate is firmly against the soffit.
Step 2: Slide the handle down till the grab plate locked to the inner tube of the compression post firmly.
Step 3: Slide the handle to the lock position and put the pin in to lock it.
Step 4: Rotate the compression post counter clockwise until it is locked tightly.
More Information About Compression Post
Standards are a top priority.
The system is fully compliant with USA standard:
OSHA 1926.502;
European standard: BS EN 13374:2004;
Canadian standard: Occupational Health and Safety Act of Ontario;
Section 26. ONTARIO REGULATION 213/91;
Australian standard:AS/NZS 4994.1 etc.
The APAC Compression post can be fixed between concrete floors and soffits. No need drilling or anchoring, providing Safer and fast installation compression post edge protection for concrete floors.
We have a strict quality control system to ensure that the best compression post products are delivered to customers. We offer our clients a wide range of quality assurance services from product design and testing, material selection and sourcing, warehousing, distribution, and delivery.
We also provide a high level of customer service, which is another important aspect of our business. Our clients can contact us easily via phone or email, and we will always reply within 24 hours.
For any questions, please email us at info@apacltd.com or call us at +86 512 6670 0084.