Welcome To APAC BUILDERS EQUIPMENT
Shoring Props are retractable tubular steel props consisting of an outer tube, an inner tube, and adjustable fittings, the inner and outer tubes are usually fitted with a flat metal plate at one end to provide additional support areas. 
APAC's Adjustable shoring prop also called Acrow Prop, adjustable jack post, adjustable steel post, adjustable steel column, adjustable steel prop, adjustable steel shoring post, and even the lally column. They are designed to support a range of formwork and falsework applications, floors, ceilings, openings, and temporary beams.
Shoring Props : Made in China,Used Worldwide
APAC shoring prop strictly conforms to BS4360 and EN1065 standard, we also provide you simple and innovative design, and use high yield strength steel materials.
Our shoring props are available in five sizes covering a range from 1040mm to 4900mm with axial compression working load limits ranging from 7kN to 42.5kN. The outer tube diameter of the shoring prop is 60.3mm, the head and base plates normally are 150x150x6mm, on the center of the plate has a 38mm diameter hole.
APAC shoring prop is fast to erect in three simple steps, and are able to be handled by a single person, ensuring reliable and economical formwork and scaffolding applications.  
Your Well-made Shoring Props
Shoring Props are used in the construction industry for temporary support of ceilings, walls and trenches (shoring). To install, first stand the shoring prop into the work area, adjust the height so that it almost fills the gap, and insert the pins to lock the inner and outer shoring prop tubes. Any remaining gap is then closed with screws until it is securely fastened to the support area.
Shoring props are mostly used for shoring: temporary support during building repair or alteration work, rather than scaffolding: an access platform for workers. Typical use is to support existing horizontal beams for table moldings.
You can have an inner tube in diameter of 40mm and 48mm for APAC's shoring prop as well. When the inner tube diameter is 40mm/48mm, the outer tube will be 48mm/56mm.
APAC's shoring prop jacks are widely used in scaffolding and concrete formwork support in Europe. The height of the props is adjustable, you can ask APAC to design and customize the height according to your slab /floor height. 
Detail
Technicial Data
Packing
Visit our factory
Latest catalogue
Detail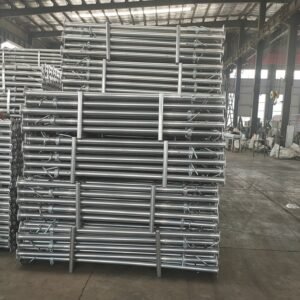 The components of the shoring prop include prop outer tube, inner tube, G pins/ straight pins, top and bottom steel plates, prop nuts and handles etc.
APAC shoring prop can be used for multiple applications, such as the construction of slabs, pier caps, tunnel vaults, bridge decks, or any other concrete structure that requires the use of falsework.
Technicial Data
Packing
Visit our factory
Latest catalogue
APAC shoring prop products are manufactured with quality welds and durable steel, our products are built to last.
APAC has been manufacturing quality products since 2014. Our goal is to provide you with quality products at the best possible price while providing the highest level of service and support.
We have a strict quality control system, and all of our shoring props will pass strict quality inspection before they reach customers.
Choose your material and surface treatment
We usually typically use S235 steel or S345 steel, both of which are commonly used in the industry. S345 steel will make the shoring prop has a better loading rating, we recommend you use S345 steel.
APAC provides OEM service for the shoring prop, the surface treatment you can find here are hot-dipped galvanized, galvanized steel, painting, and powder coated.
APAC is able to offer you shoring prop based on the weight load requirements. You can not only find the normal light-duty props. Other medium-duty and heavy-duty steel acrow props are available too.
Shoring Prop | The Ultimate FAQ Guide
Shoring Props are an integral part of construction. The modern shoring props offer high flexibility and versatile features. These units have completely simplified many formwork and framework complexities in today's construction sites.
Are you interested in shoring Props?
Read through this FAQ guide to get the answer to all your basic queries on shoring props.
When you are looking for shoring props for sale, APAC would be your best choice. We don't only ensure you the quality by a strict quality control system, but also bring you more benefits in professional consulting. price, and service.
If you would like a door-to-door delivery service, simply tell us your address. APAC has a wide international forwarder and agents, we are able to send the shoring prop to your door.
Contact us now, let APAC help you get more shoring prop business, we believe it will be a win-win relationship for us.