Reinforced Poly Sheeting is a common type of net used in building construction. With the structure of two polyethylene layers and hundreds of nylon strings forming a diamond scrim pattern, the reinforced poly Sheeting is ideal for use as a temporary weather enclosure, or scaffold wrap. For everything from simple dust protection to heavy-duty construction projects' long-term cover, you can find a fitting solution.
Made from high-strength polyethylene film manufactured with a tear-resistant internal scrim reinforcement.
Hard to tear out with its higher tensile strength.
Its life span is over 2 times that of the blow molding film.
Easy to fold and storage.
Environment-friendly.
Lightweight, durable plastic films.
Come in a variety of sizes, thicknesses, and colors to meet the requirements of your project.
Total weather protection scaffolding enclosure
APAC reinforced poly sheeting is a film that is ideal for job site enclosure applications. It can be used for various applications, including construction enclosures, temporary containment, and protecting your work sites, materials, and equipment from rain, snow, or wind in cold temperatures.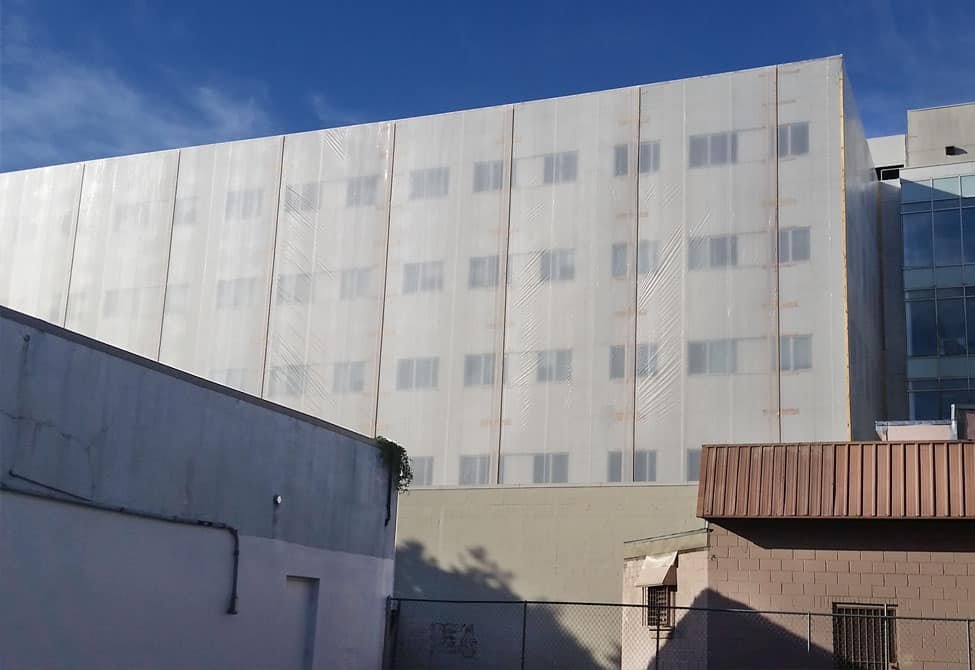 REINFORCED POLY SHEETING & SCAFFOLD WRAP ACCESSORIES
Our reinforced films have extraordinary tensile strength in all directions and profit from adding Hi-Tenacity yarn in them. 160 gsm -240 gsm reinforced plastic sheeting is our best selling. 
Check out the guide below for details on each specific type of string-reinforced poly.
Coated Woven Reinforced Poly Sheeting
Size: 10'x100′, 20'x100′, 40'x100′
5 mil, white, NON-FR or FR
7×7 square inch weave pattern
SQUARE-PATTERN
REINFORCED POLY
NON-FR or FR available
Thickness: 6 mil, 10 mil
Size: 10'x100′,20'x100′, 40'x100′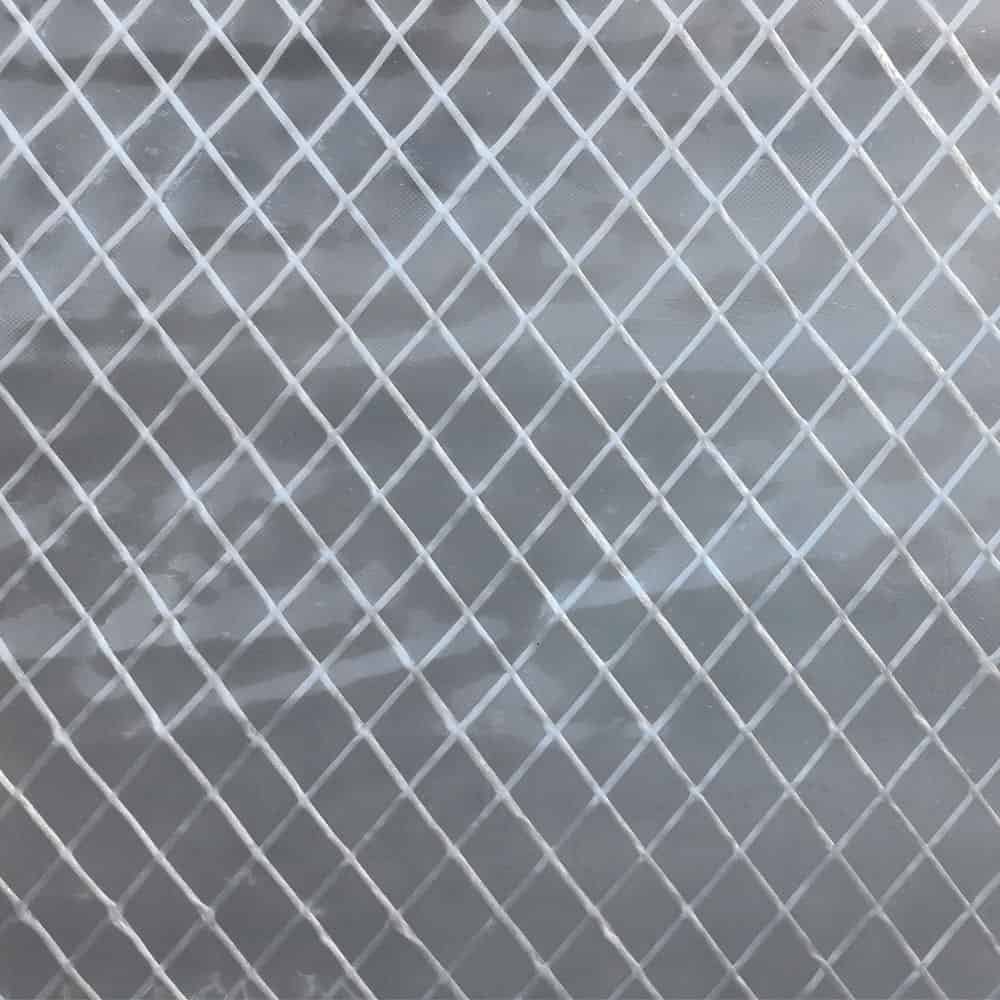 Diamond Scrim
REINFORCED POLY
NON-FR or FR available
Thickness: 6 mil, 10 mil
Size: 10'x100′,20'x100′, 40'x100′
STRING REINFORCED POLY
with Reinforced bands
Size: 20'x100′, 40'x100′
Thickness: 6 mil, 10 mil
Color: NON-FR Clear, FR milky White
heavy duty 12 mil FR reinforced poly sheeting
Size: 7'6″x100′, 8'6″x100′, 13'x100′, 20'x100'12 mil, milky white,
Flame retardant Reinforce eyelet bands with holes
white Poly Tape and Elastic bungee ties
7.5 mil poly tape: 2″, 4″, 6″
9 mil poly Tape: 2″, 4″, 6″
12″ Bungee Tie, 1,000 Per Case
APAC Premium grade string reinforced polyethylene sheeting
APAC reinforced poly sheeting can be divided into NFR(Non-Flame Retardant) Series and  FR Series(Flame Retardant).
You can choose different series according to your needs.
Clear Non-Flame Retardant scaffold sheeting
Weather-resistant reinforced poly remains flexible in cold weather climates, clear Non-Flame Retardant (NON-FR)
blue Flame Retardant
String Reinforced Poly
Manufactured with blue  reinforced eyelet bands for fastening bungee ties, flame Retardant (FR) meets NFPA 701 Test Method 2
factory direct reinforced polyethylene sheeting supplier
APAC is a factory direct supplier, which means we can give you high-quality products at competitive prices. We have advanced machinery and equipment, excellent production capacity and we can guarantee the delivery of goods on time.
reinforced poly sheeting Features
more about reinforced polyethylene sheeting
Production Process
Quality Control
Installation
Packing
Production Process
Quality Control
Installation
Packing
Weather protection related blogs
WHAT'S YOUR BEST CHOICE FOR TEMPORARY ROOF COVER?
Keder advances tent technology
4 Strategies to weatherproof a construction site
Professional manufacturing experience
Competitive price with quality forever
Promote response anytime 24 hours
Product Capability can supply bulk orders
Samples in stock ready for delivery
Fast and efficient delivery to the whole world
Let's start a new project together