Welcome To APAC BUILDERS EQUIPMENT
APAC's Keder Roof Sheeting  is a powerful solution for temporary weather protection. It is ideally suited for a wide range of applications in the residential, commercial, industrial, infrastructure and events etc.
APAC Keder Roof Sheeting is a temporary roof covering that provides excellent weather protection and allows a high level of light to pass through. APAC Keder Roof Sheeting is easy to install due to its low friction keder tape. It is heavy duty and flame retardant, able to withstand different weather and climates over time.
Your Trusted Manufacturer of
Keder Roof Sheeting in China
APAC makes industrial Keder Roofs for modular scaffolding systems. Our customized Keder Roof Sheeting fits all Keder temporary roofing systems.
The Keder Roof Sheet is made of high-quality tear-resistant industrial PVC tarpaulins. As an alternative to other types of roofing fabric, this material is sturdy, durable, and cost-effective. This product meets the strict European anti-flaming standard: DIN 4102 B1, M2.

Keder Roof Sheeting by APAC is manufactured to fit aluminum roof truss width, with 8mm, 10mm or 12mm keder bead mountings on the edges. In that way, the APAC roof sheets can be installed smoothly in aluminum tracks fitted to roof beams or vertical standards, regardless of the weather.
The end of the roofing sheet has a pocket for putting a tube into to tension it. You can pull the roof sheets without much resistance and without skewing into the Keder rail – even with large spans!
Additionally, extra pockets welded midway into our temporary roof keder sheet which allows the sheet to be tensioned from a different length. With this degisn, the tensioning is always the right way.
Meet All of Your Keder Roof Sheeting Needs
APAC Keder Roof Sheeting is designed for temporary roofing systems. Throughout the UK, Canada, and New Zealand, they're used by big scaffolding companies.
Keder Roof Sheeting is made from 2-sided PVC-coated fabric with UV protection, and it's flame retardant, according to DIN 4102, fire class B1. The PVC tarp weighs 650g/sqm or 850g/sqm. It's translucent, so it lets plenty of light in.  
We design all of our Keder Roof Sheeting in AutoCAD or other similar programs, and we use laser cutting machines to ensure consistent dimensions.
Keder beads on both edges are RF or thermally welded to keep water out. It's got a lifetime warranty against rain, hail, and frost.
Standard sheets are 5m long. Any sheet can be made to your specific sizes to accommodate any bay width and keder diameter.
Thanks to the low weight, it is quick to assemble in the modular roof system. Even in the event of damage, it can be replaced independently of the rest of the temporary roof system, saving the total costs. 
APAC KEDER ROOF SHEETING is not just a construction weather protection solution. However, it also provides benefits in a variety of daily applications, such as storage, warehouses, showrooms, emergency buildings, and flexible industrial or event spaces.
Details
Technicial Data
Factory
Packing&Delivery
Details
APAC Keder Roof Sheeting conform to BS 7955, flame retardant to EN 13501-1, class B S1, D0, Heavy duty rating for exposed locations and long term installations.
We can manufacture to customer specific dimensions to suit any spacing width and keder diameter, sheets with good light transmission.
Technicial Data
Factory
Packing&Delivery
The machine produces a keder roof system
APAC temporary roof system that meets and exceeds DIN 4102 B1 standards. Manufactured with high-quality welds and durable PVC  tarpaulin, our products are built to last.
The keder roof sheeting production process:
Polyester filament is woven into base cloth —— PVC double-sided coating
 —— drying —— cutting —— rewinding —— cutting —— RF welding —— packing —— loading containers.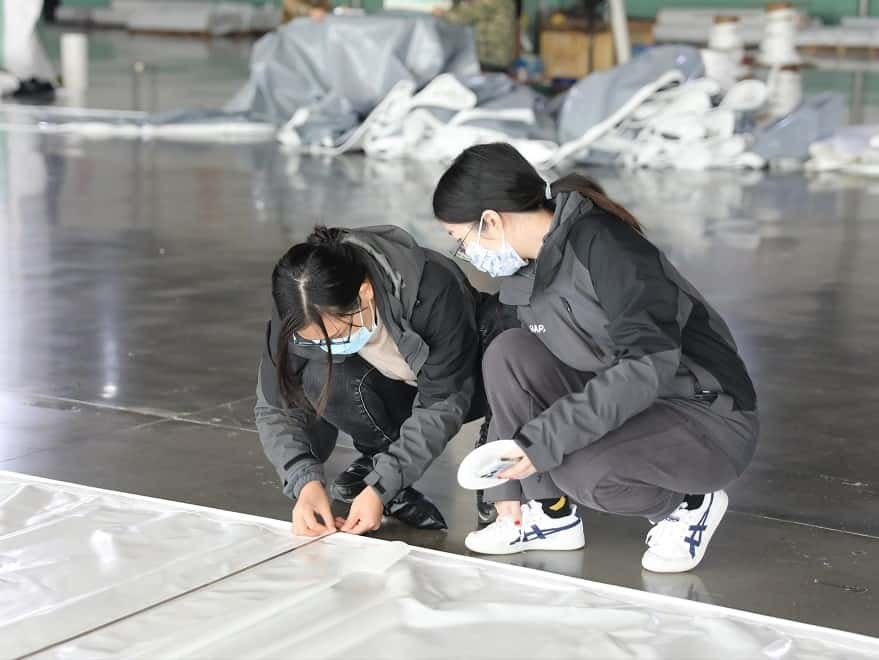 Quality assurance is a key part of our business. We have strict quality control management system to ensure that the best products are delivered to customers.
APAC has been manufacturing quality products since 2014. Our goal is to provide you with quality products at the best possible price while providing the highest level of service and support.
Generally speaking, APAC temporary roofs are made of PVC tarp, which has good flame retardant and high strength and has a long service life.
But in addition to polyvinyl chloride, also made of polypropylene ethylene and other materials, what are they? How are they different? How do I choose the most suitable materials for my project? Please read this article for the latest news
Keder Roof Sheeting | The Ultimate FAQ Guide
It can also be called 'Kador'. Keder allows you to attach the industrial fabric panels to the tent awning or Keder roof structures via the Keder rails/ Quick tracks, as an economical weather protection solution.
The Keder is a continuous strip with single flap or double flap, which consists of two parts: core and Keder fabric. 
The core is normally made from extruded PVC, or another elastic material, which is been wrapped in Keder fabric.
On the outside of Keder fabric, there are many exposed fibers, so that the Keder can easily slide into an extrusion with a luff groove – the Keder track.
The other side of Keder fabric is PVC coated, to ensure proper adhesion during welding.
APAC Keder roof sheeting is made of PVC-coated polyester fabric, using the double flap for maximum strength. Because three layers of fabric are welded at the same time, it is generally welded using a radio-frequency welder (RF Welding).You can see the real welding process in our factory in the below video. OK, you may hear of radio-frequency welding, but how does it work? Radio Frequency (RF) welding is a process that uses electromagnetic energy to bond materials. It's also known as High Frequency (HF) welding. And they don't require solvents, adhesives, or other additives during the work process. To give you a better understanding of this process, here is a brief animation. APAC Keder roof sheeting is manufactured with an emphasis on high performance and quality with safety use at the forefront. Contact our advisor for more information.
It is quite simple and easy. You just need to consider the three-step process as follow:
(1) Avoid Tears 
Before you set up the Keder roof, check for sharp edges on your aluminum track firstly. Avoid direct contact with sharp objects such as screws or utility knives during use. 
If the Keder roof sheeting is scratched, you should repair the breakage in time to avoid greater damage, by using the tarpaulin repair tape.
(2) Keep Clean
After use, remember to do a simple cleaning and drying treatment before your storage. That will help you to avoid Keder roof sheeting reproduction breeding bacteria and prevent the decay of the sheet residual chemicals, thus affecting the service life. 
(3) Store Properly
Keep Dry–Like any tarpaulin in your inventory, store your Keder roof sheeting dry. This will help you avoid mold.
Keep away from fire – To ensure that the Keder roof sheeting is placed in the appropriate place. Even if you purchase the fire-retardant Keder roof sheeting, you should also be strictly prohibited to fire, to avoid unnecessary losses.
Trust us on this! Keder roof sheeting is durable. It will be the best tarp for your keder roof system.
The distinction between PE and PVC is more obvious.
PE keder roof sheeting:
Polyethylene is translucent and easy to process. So, this material is ubiquitous in our articles of daily use.
It's odorless and non-toxic, with high resistance to moisture.
And It can be used normally at -70℃ to -100℃ benefit from the excellent low-temperature resistance and good chemical stability.
The production of PE keder roof sheeting is akin to PE tarp, it generally uses HDPE ( High-density polyethylene ), which offers such advantages as high rigidity and high chemical resistance. It's also waterproof.
The PE keder roof sheeting production process:
Mixing & tape extrusion — Weaving PE fabric — Laminating on both sides–automated cutting — welding — Folding, packing & stacking
PE roof sheet is popular among many customers due to its lightweight, affordability and wide range of available colors and sizes.
PE keder roof sheeting is designed for temporary use, and it will not last as long as PVC roof sheet, it's not suitable for long-term usage in the outside or bad weather environment.
Customers looking for quick short-term use will find our PE roof sheet to be a cost-effective solution.
On the other side, HDPE can cause stress cracking easily with the affection of environment, which limits its application in industry. Because of its wick tear strength, the disadvantage is that it is easy to tear and wear.
It's hard to imagine the PE keder roof sheeting can not prevent water leaking after being used once or twice. You may suffer a loss or damage caused by the weakness.
PVC keder roof sheeting:
PVC keder roof sheeting is a high-strength polyester fabric coated with polyvinyl chloride (PVC) resin mixing with plasticizers, stabilizers, flame retardants, preservatives and other chemical additives, plasticized at high temperature.
The material, percentage of resin and density are keys in determining whether a PVC sheet performs well.
PVC sheet is based on polyester fabric, coated with enviromentally friendly resin on both sides, one-step forming. The PVC resin fill the gap of fabric, so the PVC keder roof sheeting has excellent property, such as:
Properties of waterproof, mouldproof, cold resistance, aging resistance, anti-static electricity, etc.
The elongation at the break, tensile strength and tear strength are better than traditional roof sheets.
with superfine abrasion performance and anti-skid treatment on surface
Heat sealing can be used to reduce the joints and eliminate sewing needle holes
Various bright colours are available according to the needs.

Manufacturing Process:  

Polyester Standard Filament Fabric — Impregnated — Drying until firm –Calendering and cooling — Folding, packing & stacking.

The keder roof sheet is made of PVC by coated resulting in an appropriate rain-proof function. It has better weathering quality than the PP and PE roof sheet. The waterproof effect also precedes other water-resistant tarpaulins.

It can be used for long-term outdoor covering, such as waterproof cloth for truck transportation and cargo ship, wind prevention canvas for breeding industry, rain gear for coal-field, and so on.

If you're looking for the strongest and most long-lasting roof sheets, our PVC keder roof sheeting will be the right choice for you.

the reasons why we use PVC instead of PE to manufacture keder roof sheeting are multifarious. Overall,

The waterproof ability of PVC is better than PE.
PVC keder roof sheeting is more hard-wearing.
PVC sheeting is propitious to outdoor work.
PVC keder roof sheet has much better ageing resistance than PE sheet.

No matter the size of your project, we've got you covered.
The PVC tarpaulin is ideal for temporary roof coverings in keder roofs. The manufacturers will offer you PVC tarpaulins with widths that can fit the keder roof bay width of the scaffold. These rolls come with a variable-sized keder bead attached at the edges of the tarpaulin throughout the length so that you can easily install it on keder systems.
Follow these steps to install a PVC tarpaulin for keder temporary roofs:
Make sure that the keder roof is correctly assembled and ready for the roof covering installation.

Choose a tarpaulin that can fit with the roof bay width of the scaffold. Since all the roof bays have similar widths, choose several PVC tarpaulins to cover the whole roof area.

You have to proceed by installing tarpaulins on each single truss bay individually. Start from any one side. Position the tarpaulin in front of the truss bay you have chosen.

There is a hollow pocket at the end side of the roof sheet to insert a tube for pulling the sheet. Insert a tube through this pocket. Fasten a rope on two sides of this tube leaving some sagging in the center. Fasten another rope at the center of the previous rope. So, when you pull the second rope, the attached ends of the first rope will pull the tube at two points.

Lay the long rope over the roof. You need to place the roof covering at the keder grooves and insert it.

Pull the rope from the other side. Try to pull the rope evenly to prevent skewing. Also, make sure that the edges of the tarpaulin remain straight as you are pulling the rope.

When the first end of the PVC tarpaulin reaches the other side, stop pulling, keeping a 15 cm to 20 cm extended portion. Make a fold with the extended portion around the frame rails at the opposite end.

Now you need to secure the PVC tarpaulin with the rails. Use rail locking pins to sucre it. It is recommended that you use three pins at the edges and single locking pins in between the two edges, following a fixed interval.

Follow the same steps to install the other tarpaulins until you cover the entire roof.
Send Your Requirement,let us get your project start!