Welcome To APAC BUILDERS EQUIPMENT
WHAT IS GUARDRAIL SYSTEM?
Guardrails are critical elements in the fall protection system. They create a barrier at the edges of the exterior perimeter of the structure, internal holes within the slab, or any areas with a risk of falling hazards to prevent accidental falls.
Guardrail systems can come in a variety of forms and materials. For example, according to the material classification, the systems you can see in the construction site are wooden, steel, aluminum, and wire rope.
Guardrail systems are mainly used on construction sites, warehouses, and Any workplace with an accessible roof.
Types of Guardrail System Solutions
OSHA has specific requirements for guardrail systems that employers must comply with. Fall protection devices are required on construction sites when workers are 6 feet or higher. It is the employer's responsibility to provide proper fall protection for employees.
Different scenarios have different guardrail systems to match them, and each guardrail system has many requirements. It becomes quite important to choose a safety guardrail system that meets the specifications.
It is the perfect choice when encountering areas where non-penetrating guardrails will not work correctly. The system allows installers to attach to existing railings without penetrating the roof membrane and provides a permanent guardrail that does not create a tripping hazard when working around equipment.
Non-penetrating guardrail system
It is very popular due to the installation procedure. You can easily install it on different surfaces without damaging the ground. These components of these guardrails are specially designed so that you can easily assemble and dismantle them on variable types of surfaces.
difference between guardrails and handrails
Guardrails and handrails are both essential to building safety, but they are not the same thing.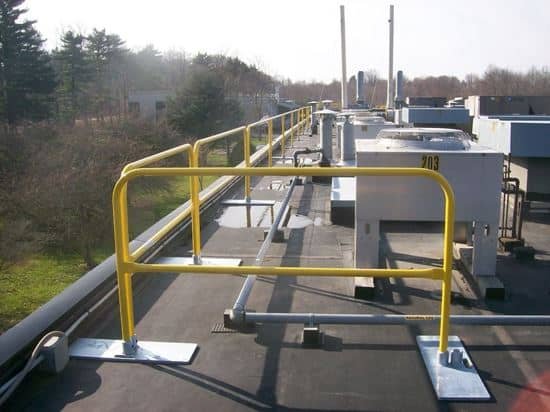 Guardrails are barricade structures installed along the unprotected or exposed side or edge of a walking work surface to avoid injuries from falls. These structures are typically found along building edges, balconies, work platforms, roadways or cliffs, around holes, and on scaffolding.
Handrails are handrails that people use to support themselves while walking up and down stairs, ramps, or across flat surfaces. Handrails are a good way to prevent people from falling as long as they are within arm's reach, such as in a crosswalk or work platform.
More Description of Guardrail System
Details
Factory Capacity
Application
Packing
Details
Factory Capacity
Application
Packing
Your Reliable Guardrail System Supplier
A compliant guardrail system prevents workers from falling and getting injured and prevents you from being fined or risking severe negative consequences.
APAC has a significant edge protection products manufacturing capacity, and we can provide you with guardrail systems that meet OSHA requirements 1926.502(b).
We will send you videos that can guide you to quickly install guardrail systems and improve your operation's safety to minimise your project's construction duration.
If you are interested in installing a guardrail system at your construction site,
contact us today to get more about the edge protection solutions we can provide.