APAC BUILDER EQUIPMENT., LTD is the Chinese leading manufacturer and supplier of construction worksite safety products.
Founded in Suzhou, APAC has expanded with related factories in Jiangsu, Zhejiang, Hebei, Shandong Provinces, which are specialized in manufacturing scaffolding, edge protection systems, and keder roof tarps. That also means our customers have a reliable supply of products available at short notice with the huge production capacity of our facilities.
scaffolding & engineering factory
high-strength automatic welding machine
Hot-dip galvanized surface treatment
ringlock ledger assembleing
We're committed to evolving the worksite safety market through state-of-the-art design, superior engineering and turnkey service. Over the years we have made substantial investments in innovative manufacturing processes to improve the quality of our products.
Our scaffolding factory offers services with all kind of ringlock scaffolding products. We have more than 30 professional products lines. Production capacity of more than 5000 tons per month.
Based on the Customer Drawing, we can fabricate all kitting of ringlock system with full of equipment: welding, punching, pushing, drilling, rolling, cutting…machine and experienced workers.
edge protection mesh welding
mesh barrier powder-coated
Edge Protection Systems(EPS) is one of our popular products. We export large quantities to Europe, Australia, North America, the Middle East and other countries which have won our customers' approval and satisfaction.  
We employ automated manufacturing lines for the production of our edge protection barriers and temporary fence panels. Automation allows all these products to be done swiftly ensuring a better quality product at a competitive price.
Better design, better material and automated manufacturing techniques bring many advantages to making APAC EPS products stronger and safer than traditionally manufactured ones.
weather protection Technology factory
Keder roof sheeting RF WELDING
Keder roof SHEETING PACKING
Our tarp factory is located in Zhejiang Province, manufacturing a vast range of reinforced PVC or polyethylene tarp products including but not limited to keder roof sheeting, snow tarps, Architecture Coverings, PVC tarps and Construction Scaffolding Tarpaulin.
Our PVC or canvas department handles fabrics of 500gsm and upwards using CAD design, computer-controlled laser cutting tables and 5 modern high-frequency welders to allow rapid and accurate manufacture of PVC tarp sheeting up to 1000 square meters per day.
The factory also has a modern automatic movable HF welding machine for heavier production loads and reinforced heavy-duty fabrics, effectively providing up to a longer welded surface with one weld cycle, for example, keder roof sheeting.
We take first-grade raw materials from Quality Approval Vendors only, and all finish processing is in-house made through our own production line by our skilled workers and checked by QCs.
APAC is currently the leading manufacturer of Keder roof sheeting in China. We produce and supply the components for the company's standard keder roof sheeting range (currently 7ft up to 10ft width truss structures), as well as aluminum truss systems and increasingly, manufacture bespoke structures to meet the construction industry's application needs.
Our factories continued to manufacture products during the global COVID-19 crisis and government restrictions of the last two years. All people in our factories strictly obey the social distancing and other health measures, so there is no impact on our ability to manufacture at scale.
We have established a quality assurance department to make sure that our products meet customer requirements.
Every batch of products will have to undergo strict pressure testing and loading testing before being sent out to customers.
Our professional team strictly examines every procedure, from supplier verification examination of raw materials, production, and finished products, so as to ensure the high quality of products.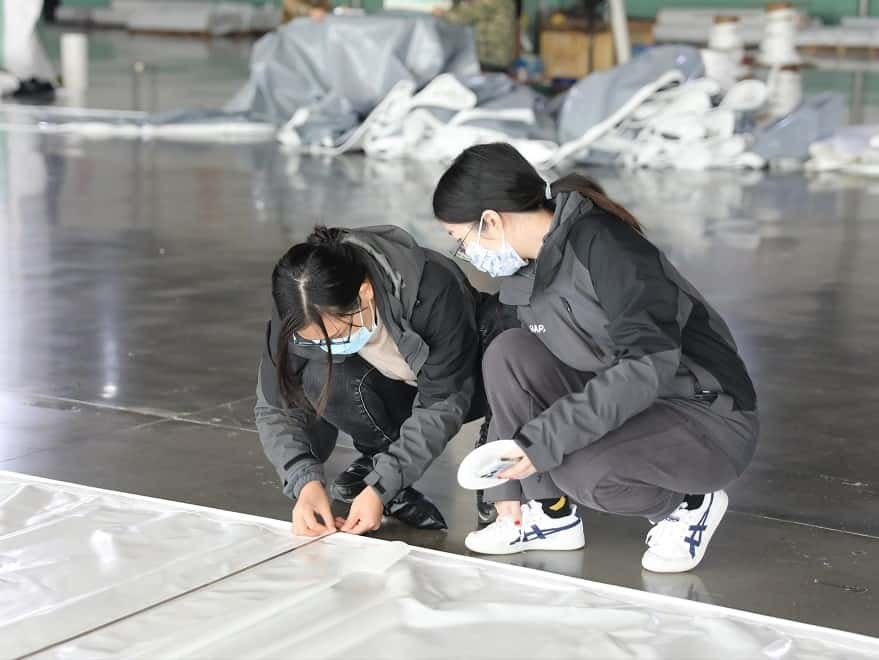 Additionally, we check the appearance for any loss or missing pieces. The types and specifications are to be verified as well.
Request a qoute for your project today
and we'll be in touch!