Welcome To APAC BUILDERS EQUIPMENT
Brick guards are durable safety barriers. Brick guards are designed for construction working platforms or scaffolding access aisles, to improve the safety of the work environment.
These mesh barriers along the scaffold handrail and toe board can prevent bricks and debris from falling from the scaffold structure and ensure the safety of workers and people who are passing nearby. The material of brick guards is steel or plastic, so they are durable and safe for reuse many times.
Multipal brick guards FOR YOUr projects
APAC knows the edge protection system inside and out for over 15 years. We take a deep dive into the details of what you need, providing solutions for each project. 
Our edge protection barriers are engineered and manufactured in a range of sizes & heights, to the standards BS EN 13374 and AS/NZS 4994.1. There are also several different fixings available to allow you to install, reposition, and remove in a variety of ways, depending on your site.
If you would like your wire mesh barriers powder-coated in specified colors, just reach out to a member of our team, we can make the barriers in any color required.
Colorful plastic brickguards
Full range of colours available as well as incorporating corporate logos
Strengthen Plastic Brick Guards
One-piece plastic brickguards panel with strength apertures, integrated toe board clip, more durable and stability
steel wire mesh brickguards
lightweight zinc-plated brick guards, it also can be powder-coated for your desired color
Suspended from a guardrail ledger, enclosing the space between the ledger and the working deck for safety
Colorful one-piece Brick Guards
APAC always takes your interests first, so all the materials used for the brick guards are high-grade impact modified polypropylene, the reason is for durability and flexibility. Choose APAC Brick Guards products, you can leave your hand off, no need to worry about the creasing, fracturing, or hooks falling off anymore.
APAC's unique hook design reduces accidental displacement, with APAC's one-piece plastic brick guards, there are no hidden costs or additional labor requirements compared to the steel mesh guards.
At the bottom of our brick guards, we designed two special clips, so the clips can be inserted into the tob board, it will prevent the movement of the brick guards, even in high winds, the system can still be very stable. The key difference is that the completely new and unique hanging hook design has been developed using smooth lines for max durability while allowing the hooks of every brick guard to nest inside its neighbor without the likelihood of becoming entangled.
The mesh section has also been redesigned to take care of a flat profile across the brick guards and introduce a huge advertising pane. You can mold or print your name or logo into the brick guards, this is helpful to improve the company's visibility and increase security against theft.
You can now buy standard-style brick guards that will be stacked vertically without tangling, making them great for scaffolders and great for storage and transportation.
More About APAC Brick Guards
Details
Quality Control
Packing
Download
Installation
Details
From the first beginning of design, APAC already considered the transportation and storage problem, so our brick guards is easy to stack, easy to separate and Anti-tangle guaranteed, great for storage, delivery and movement around site.
Another feature of our brick guards, you can overlap the one brickguard to another, the interlocking feature makes the whole system maximize stability.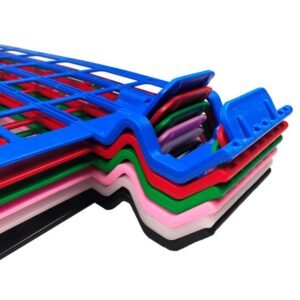 Quality Control
Packing
Download
Installation
Your Highly Experience Brick Guards Manufacturer
When we launched into the plastic brick guards market, APAC has taken the good and bad opinions of existing products on the market and come up with a design that makes the APAC brick guards completely unique.
APAC's plastic brick guards is better than the other products in the market, its unique one-piece design, no need for additional hooks to attach, so you don't need to worry about the count or loss of the hooks for the brick guards.
Thanks to the complete one-piece design, APAC plastic brick guards are no need separate parts, easy to fix to the scaffolding tube for the construction site protection.
Except for no additional hooks and separate parts, it totally no need any additional fixings too. APAC can guarantee you efficiency when you build a safe construction site with our brick guards. 
Different Materials of brick guards
Based on variable advantages and application scopes, the choice of material may differ from one manufacturer to another. The materials used to make brick guards are:
Plastic/Polypropylene
The plastic brick guards are usually made of virgin polypropylene.
Virgin polypropylene is sometimes the only option for achieving high-visibility colors, such as yellow or signal red.
These bright colors are required to highlight certain areas of scaffolding, such as loading towers or staircase access.
Steel/Galvanized steel
A steel brick guard is a mesh panel manufactured from carbon steel.
In galvanized steel, manufacturers apply a zinc coating to the exterior surface of the steel. This makes them resistant to corrosion.
With a stronger grid mesh structure and a higher safety factor, this new brick guard will give the end-user more choice.
Plastic-Coated Wire
Metal wire mesh based components are coated with a plastic layer to make plastic-coated wire brick guards. The interior wire provides strength, and the exterior plastic ensures durability for your product.
Years of experience and construction services.

Great production capacity which ensures faster delivery.

Modern factory and before/after-sales technical support.

Good reputation and relationship with China's top shipyard companies.

Varied types of brick guards supply to satisfy different demands of clients.

Has own Powder Coating production line, to provide a fine coating for brick guards.
Let's start a new project together