Welcome To APAC BUILDERS EQUIPMENT
Debris netting is made of HDPE, with the advantages of high strength, light weight, heat insulation,fireproofing and dust prevention.
It is mainly used in construction sites, shipbuilding & repairing, large equipment installation and other high-altitude workplaces, preventing people and objects from falling or to avoid injury from falling objects.
The debris netting can also be used as protective nets, fences, bird protection nets, etc. for a variety of purposes.
As A Debris Netting Supplier, APAC Is Your #1 Choice
Debris Netting is mainly used on scaffolding to keep any rubbish or debris contained on a building site. It improves site safety by reducing the risk of objects falling outside the working area. The containment of debris creates a safer working environment for workers and the general public.
The fine mesh design allows a good around of air circulation, but reduces the amount of wind and rain that can get through which makes for an improved and safer working environment.
APAC Debris Netting Series
Debris Netting is your important source of protection from debris that falls from the working deck. APAC debris netting series will help you improve the safety of on-the-street pedestrians, construction workers and adjacent properties.
Our heavy-duty, fire retardant, OSHA-compliant debris netting is made to wrap a building or job site in a cocoon of safety. It is the most economical and cost-effective solution for ultimate safety on your job site.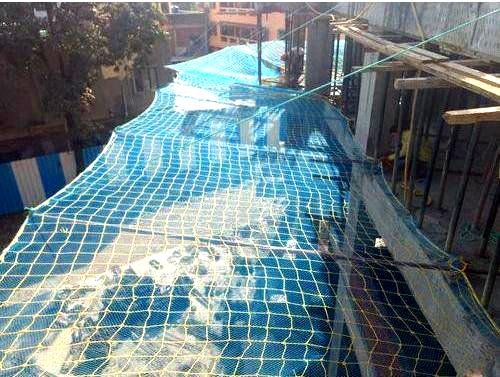 horizontal debris netting
Durable netting installed horizontally to provide worker safety, protecting workers from penitential falls and falling debris and objects on the ground
Designed for scaffolding enclosure and vertical debris protection, increasing the safety of workers and debris falling during construction.
Adequate advertising on your construction project, it can be custom debris netting banners or temporary fence panel covers
As a debris netting supplier, APAC has exported for over 5 years. Our debris netting is heavy-duty and durable.
We have many types of debris netting:
Premier debris netting Supplier in China
For top-quality debris netting, discover us – APAC Builders Equipment Co.,Ltd.
From small construction jobs to large industrial or commercial projects, we'll meet and exceed your expectations with a reliable cost-effective service, giving you the benefit of more than 10 years in construction site safety business.
Features
Details
Factory capacity
Packing
How to install
Features
• Made from 100% high quality virgin material
• UV protection for sunlight exposure
• Tear resistant and remains flexible even in cold weather
• Provie an enclosure which allows air to pass through
• Contain tools and debris from falling, protecting worker and pedestrian safety
• FR (Flame Retardant NFPA 701) or NFR (Non-Flame Retardant) optional
• Application in both construction and agriculture industry
Details
Factory capacity
Packing
How to install
The debris netting design provides containment of small and chunk debris and is highly tear resistant. Debris Netting rolls include finished hemmed edges with reinforced eyelet button holes for fastening allowing for an easy, safe, and secure installation. All netting rolls are tightly packaged into clear poly bags with branded labels for easy shipping and handling.
All APAC Debris Netting is tested and approved to meet the standards in the industrial and construction industry.
Debris net for Wide Applications
● Contains Jobsite debris, tools & other materials     
● Protects workers & pedestrians from falling objects
● Provides visual safety barrier
● Guardrail debris protection 
● Scaffold & construction building enclosure
● Industrial plant & refinery maintenance
● Temporary jobsite barrier netting
● Safety fence, snow fence, barrier net
Debris Netting | The Helpful Guide for Importers
According to the occupational health and safety standards, the vertical debris nets should maintain a minim height of 42"±3" with sufficient toeboard safety facility. For horizontal safety nets, you should install them with an extension of 8' from the working perimeter.
There are no fixed requirements on the mesh size, but you need to use a smaller mesh size to catch be able to trap all kinds of debris. In general, you can find debris nets with mesh sizes of 1/16", 5/32", or 1/4″.
The debris nets are suitable to avoid bouncing off debris even if they fall from certain heights. When the debris falls on the net, it extends downwards due to its elastic nature. It gradually stops the falling in a slow effect, which helps to stop the chance of debris from bouncing off.You can watch this video to understand how they perform.
If you need debris netting or safety nets, you're looking for scaffolding solutions for a large new build project, whatever your requirements, here is our three-point promise.
we'll provide a free quote
We'll comply with all the latest safety requirements
and we'll make sure you're totally satisfied before we consider our services done
Send the inquiry now, and contact APAC you can trust.
LET'S DISCOVER OUR OTHER WORKSITE SAFETY RANGES WHICH MIGHT INTEREST YOU!
● 10+year OEM & ODM experience & one-stop solution
● Expert guide through the process to keep your project on time and on budget
● Regards quality as a basic factor for enterprise development
● Strict quality control system, guarantee TOTALLY customer satisfaction
● Fully worksite safety solutions with interchangeable components
● Capability to supply both bulk orders and smaller volumes
● Fast and efficient delivery to the whole world
Let's start a new project together