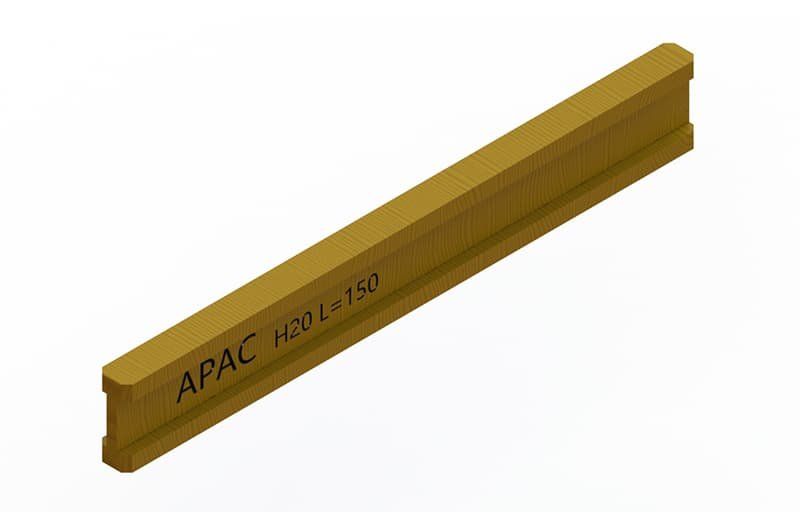 Welcome To APAC BUILDERS EQUIPMENT
H20 beams are made from wood or wood-based alternatives. You can use these wooden beams for formwork in reinforced concrete systems. Because of the high load-bearing capacity, the H20 beams are widely used in construction with large spans.
Thanks to the features of lightweight and heavy-duty, it can be combined with all concrete formwork systems of construction worksites and used together with props, tripod, and forkhead.
Strength and Safety
Dimensional stability and recovery capacity after application of load. High load capacity throughout their length.
Economical
Can be used many times. Good ratio between price and uses. Easy storage.
waterproof
Yellow waterproof painting, WBP phenolic glue, approved for fixing wooden structural components
Adaptability
Can be used as primary beam of formwork slab table and the support in wall making shuttering systems
Available options For APAC H20 beams
Costmized LOGO H20 timber beam
H20 Beams with plastic caps
H20 beam with end-to-end joint
H20 beam with metal end protector
Dimension
Details
Technicial Data
Dimensions & Tolerances
Packing & Delivery
Dimension
Type of wood: New Zealand Radiate Pine, etc
Weight: 5.0 kg/m
Wood humidity: 12%±2%
Gluing: melamine resin-based glue, type EN 30, approved for fixing wooden structural components
External: made of selected solid fir and coupled with 80 x 40 mm section – milled and perfectly calibrated for an optimal assembly with core
H20 Beam Surface: treatment with water repellent yellow paint
H20 Beam Head: sprayed with waterproof paint, or fixed with plastic caps or steel sleeve
Standard length: 1.3 / 1.45 / 1.95 / 2.45 / 2.65 / 2.90 / 3.30 / 3.60 / 3.90 / 4.50 / 4.90 / 5.90 m or customized length
Details
Technicial Data
Dimensions & Tolerances
Packing & Delivery
more details about APAC H20 beam
The timber beam plate and flanges are glued together by finger joints. So the strength of the timber beam is highly improved.
Additional plastic or steel caps fixed on the wooden beam ends protect against mechanical damage. That ensures a long service life. 
For each package, the pallet is on the bottom, and Steel band for strength. Film protection to reduce the risk of scratching on these oriented wood.
H20 TIMBER BEAMs on worksites
H20 is a double T-section with a height of 20 cm. It is lightweight, and easy to assemble in any formwork. The H20 beam does not crack when nailing and screwing screws.
It can be widely used:
● In slab formwork on telescopic props
● In slab formwork with cuplock scaffolding
● In girder wall or column formwork systems
● In self-climbing system for high-rise cores
● In Bracket platform with large-sized wall formwork
● for road and bridge construction
The high degree of flexibility with regard to the geometrical adjustments perfectly suits the superstructure cross-section,
Quality h20 beams accelerated the process of civil construction concreting sections while simultaneously ensuring optimized workloads.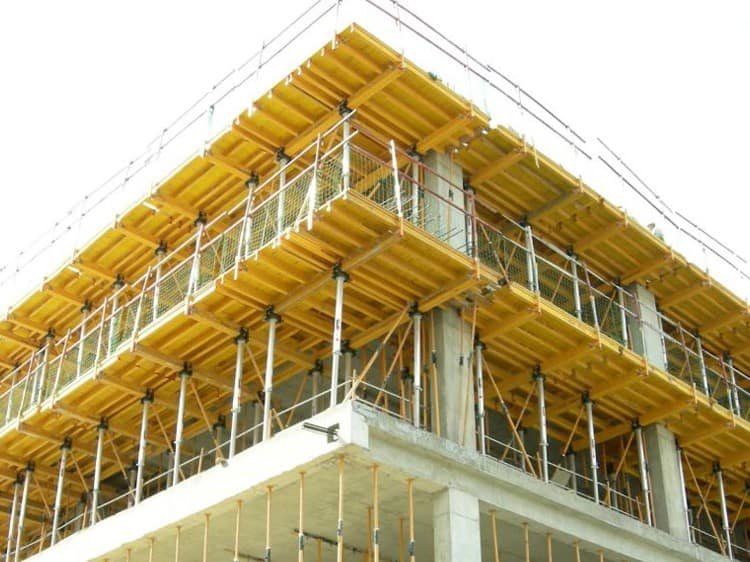 H20 Timber Beam Edge Protection System
Prop with H20 Timber Beam
multiple forming and shoring
H20 timber beam from the expert China supplier
APAC wholesales highly quality H20 beams. Available in various sizes, the outer parts are made of selected quality solid fir consisting of upper and lower wins and with a three-layer core. The union is designed as a notched and glued joint.
Upon request, they may come in plastic protection to reduce the risk of scratching the outer parts of the H20 beam.
We produce H20 beams just-in-time according to your needs and respect the deadlines of delivery.
how we manufacture h20 timber beam
APAC offers quality formwork and beams. Our factory has worked on this for over 10 years.  Quality wood guarantees the strength of the beams, so we selected oriented wood for timber beams from trusted wood suppliers.
The modern last generation equipment is used at our factory. All APAC's H20 beams are environmentally friendly, certified, and correspond to the EU environmental standards. Quality control at all stages in manufacturing.
For better weather-resistant coating for wood, we use high-tech impregnation formula to increase the moisture resistance of the H20 beams. Special beams' ends and caps fixed on the beams increase the strength and lifespan.
Our factory manufactures customers 20 kilometers of H20 beams per day. The H20 beam is successfully exported to more than 20 countries worldwide.
Regardless of the tasks, you can trust us!
How to build a slab table with H20 beams
Here is the video tutorial on the correct assembly of a concrete slab.
Firstly, find out the right way to pose every part needed to raise a slab.
Step 1: Starting from the ground, with the shoring props and their accessories such as tripods and forks.
Step 2: Distancing the primary beams and the crossbeams.
Step 3: Positioning the panels to realize the concrete slab.
Step 4: removing the worksite elements after the concrete solidifies
H20 Beam | The Ultimate FAQ Guide
H20 beams have an increasing demand in the formwork markets. You can use them for different kinds of adaptable formwork applications.
H20 beams can be an ideal choice for your formwork solutions due to their superior durability and high load-bearing capacity. This writing focuses on answering some of the most common queries you might have regarding H20 beams.
This article is for you if you don't know about H20 beams and how to maintain them. Read more details in this blog. 
DIFFERENT TYPES OF GLUE USED TO MAKE PLYWOOD SHEETS AND OTHER WOOD PRODUCTS
Learn the three main types of glue urea-formaldehyde glue, melamine glue, and phenolic glue. Read more details in this blog. 
APAC has a professional technical service team, we can design and calculate catering to your needs. Don't worry, it's free!
Many of APAC's sales have engineering backgrounds and are fluent in English and can address your questions more quickly and directly.
We can be contacted directly via email or phone.
China #1 worksite safety products manufacturer and supplier
Offers free design service and one-stop solution
Factory certified to ISO 9001 standards
H20 beams exported to more than 20 countries
Capability to supply both bulk orders and smaller volumes
Customized types, lengths, Logos are available 
Fast and efficient delivery to the whole world
Let's start a new project together