Welcome To APAC BUILDERS EQUIPMENT
Temporary Chain Link Fence
The benefit of temporary chain link fence is obvious, it is easy to install and move for keeping the construction sites secure. Compared with permanent fencing, the portable chain link fence is more cost-effective.
APAC provides safe, simple, and secure construction fencing solutions for your boundary and security needs. We offer construction fencing and temporary fencing, always provide consumers the very best in easy-to-use portable mesh fencing panels.
APAC — The Leader In Temporary Chain Link Fence Market
And as you can see in the below pictures and video of the factory, we've manufactured and shipped tons of it.
Any configuration that you need, we can accommodate that we'd be glad to.
For more info on temporary construction fences, please visit our website or subscribe to our YouTube channel.
Give us an inquiry whenever, we'd be happy to serve you.
Temporary Chain Link Fence Components
To make sure you get the portable chain link fence you want, APAC has 5 available sizes for you to choose from.
6-foot chain link fence series: 6×8 chain link panels、6×10 chain link panels、6×12 chain link panels
8-foot chain link fence series: 8 x 10 chain link fence panels、8 x 12 chain link fence panels
Clip provides a positive
the connection between fence panels.
An angled support brace is designed for providing excellent wind resistance.  Purpose: Additional Support for Temporary Fencing PanelsRecommendations: Brace Fencing at Least Once Per 3 Panels
Material: Hot dipped galvanized wire and pipe.
Surface Finish: pre-galvanized plus spray painting/zinc powder coating
Your Reliable Temporary Chain Link Fence Supplier
If you're looking for a budget-friendly construction fence option, a temporary chain-link fence is the way to go.
The temporary portable chain link fencing is wildly used for construction sites, job sites, large or small events, utility companies, fire restoration, parking, or seasonal events.
It's easy to set up and teardown. Set it up when you're ready to start the project, When you're finished with the project, take it away and get it prepared for your next project.
The temporary chain link fence is not a very complex product that takes a lot of installation or skill for that matter. Anyone can put it up fast, it will secure your construction job site.
The chain-link fence with fence screen is an excellent choice when you need dust control, job site privacy, and a professional-looking fence line.
Details
Application
Packing
Quality Control
Details
Application
Packing
Quality Control
We have strict quality control management system to ensure that the best products are delivered to customers. We offer our clients a wide range of quality assurance services from product design and testing, material selection and sourcing, warehousing, distribution and delivery.

Our team of skilled professionals ensures that our products are manufactured under the highest standards of quality and safety. The entire manufacturing process is carried out in-house at our state-of-the-art facilities. Our in-house testing laboratories ensure that each and every product conforms to international standards.
Choose the materials you want
We are a leading temporary chain link fence supplier, with more than 7 years of experience in the field of the Australia temporary fence, Canada temporary fence and other related products.
We have carbon steel Q235 and Q345. You can select your material according to your application environment. Read more about Q235 and Q345.
surface treatment for you
All of our metal products undergo surface treatment before shipping in order to achieve color and corrosion resistance.
The most common treatment was powder coating, zinc galvanizing, and spray painting. We give pre-treatment of metal prior to treatment, to ensure the coating is durable and long-lasting.
Zinc Galvanizing
On steels, we offer both hot dip and cold galvanizing for zinc galvanizing.
Before galvanizing, metals have been soaked in a caustic bath.
Hot Dip – Steel immerses in a molten zinc bath to create durable and tough zinc alloy layers. It provides maximum corrosion protection for steel when used outdoors.
Cold – Zinc spays to steels at all angles at a controlled rate for required thickness. It provides basic corrosion protection for indoor applications.
In addition, we provide customized services and can choose different treatment methods according to the needs of customers.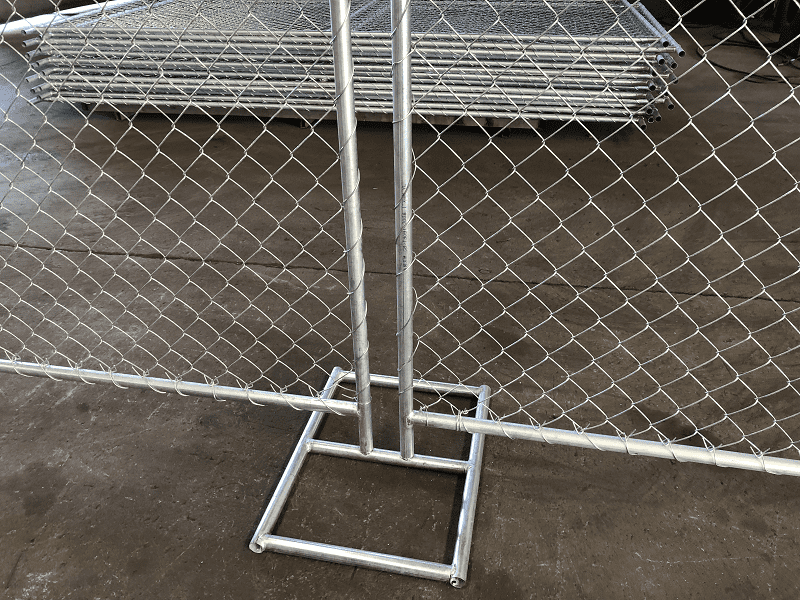 Our products are mainly exported to Europe, America, Australia and Southeast Asia. We are confident that we can provide you with excellent service at competitive prices.
In the past few years, we have been successful in completing an impressive range of construction fence projects. 
Over the years, our team has accumulated a substantial amount of experience, which allows us to deliver projects reliably, on time, and within the budget that are set forth by our clients. 
View our gallery of construction fence projects.
Temporary Chain Link Fence | A Complete FAQ Guide
Installation of these fences is very easy as the main components come ready to install from the manufacturer. Just follow these simple steps:
Set up fencing perimeter.
Install the support posts on the ground.
Install fence panels on support posts. Use a single support post for two adjacent panel posts.
Attach two to three fence clamps with two adjacent panels.
Install gates at access points.
Install additional components like barbed wire or privacy screens if you require.
The general chain link fences are made from galvanised steel. This creates an exterior layer that helps to prevent chemical reactions with the environmental elements. So, these are extremely suitable to resist corrosion and harsh climatic conditions.
Moreover, they are designed with sufficient gaps between them to allow wind passage. So, they do not get damaged at high wind speeds. So, you can use the chain link fences for a long period.
Common privacy screens are commonly available as mesh and manufactured from high-density polyethylene (HDPE). You can easily install them on your fence posts using tie wraps, u-brackets or u-hooks. Use S-hooks to attach the upper corners of the privacy screen with the panel frame to bear the main weight.
Since they are lightweight components, this will be sufficient to bear the weight. Later, use tie cables or tie wraps to fasten the upper, lower, left and right edges at suitable distances for sufficient protection against wind. Fasten at additional central locations through the mesh for more support.
Although it's a really hard choice on the contractor purchases desk among a lot of suppliers, don't have to worry about it anymore.
APAC makes it very easy for our customers.
You can phone in or email in the exact budget you need, we can ship directly to your project the exact quantity of what you need.