APAC slab grabber makes it easy to install guardrail systems on concrete edges quickly and easily. It is completely optional to tighten the wrench on these concrete guardrail posts. In addition to being easy to install, they can fit concrete slabs of up to 36 inches in thickness with zero tools required. It is compatible with 2×4's and 2×6's wood boards and metal railings that are snap-on or cable-attached due to its strong and durable construction.
Features
Specification
Attention Before Installation
Maintenance
Datasheet
Features
● Heavy-duty – Frame constructed from carbon steel.
● Versatile – Easily attach 2X4's or 2X6's or string cable for perimeter guardrail barrier.
● Corrosion resistance – Hot Dipped Galvanized or powder coating surface provides an excellent finish and protection.
● Simple Install – Adjust the guardrail post open width and tighten only by the top handle rotating
● Meets and exceeds OSHA/ANSI Standards
Specification
Attention Before Installation
Maintenance
Datasheet
Installation Guide of guardrail slab grabber
Ensure the slab decking and structure can support the system and installer before you install the guardrail system.
Work surface surfaces must be free of debris, gravel, and loose or slippery concrete surfaces that could interfere with slab grabber bearings.
Measure and space the location of each slab grabber, no more than 8 feet between each one, or more than 12 inches from any outside or inside corner.
Rotated the top handle in a counter-clockwise motion to open the post clamp slightly larger than the desired slab decking thickness.
Place the clamp over the slab edge and make sure the post is positioned perpendicular to the slab surface.
Adjust the top handle to tighten in a clockwise motion until the grabber is secure on the concrete slab. If using a torque wrench, tighten no more than 30 lbs./ft.
Place the 2" x 4", 2" x 6" or cable through the top rail and mid rail space on the post, use nails to secure 2" x 4" or 2" x 6".
The 2" x 4" or 2" x 6" can be used as toe boards if needed. The process is the same as above.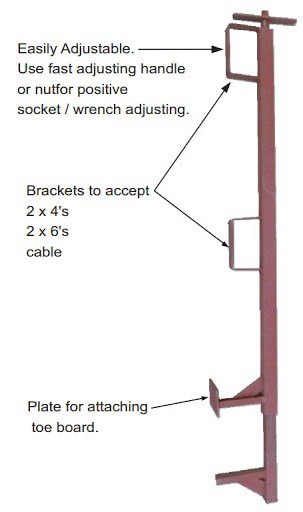 Boost Your Business with APAC guardrail system
APAC slab grabber products that meet and exceed OSHA standards. Manufactured with quality welds and durable steel, our products are built to last.
APAC has been manufacturing quality products since 2014. Our goal is to provide you with quality products at the best possible price while providing the highest level of service and support.
surface treatment for you
All of our metal products undergo surface treatment before shipping in order to achieve color and corrosion resistance.
The most common treatment was powder coating and zinc galvanizing. We give pre-treatment of metal prior to treatment, to ensure the coating is durable and long-lasting.
Zinc Galvanizing
On steels, we offer both hot dip and cold galvanizing for zinc galvanizing.
Before galvanizing, metals have been soaked in a caustic bath.
 Hot-Dip Galvanized – Steel immerses in a molten zinc bath to create durable and tough zinc alloy layers. It provides maximum corrosion protection for steel when used outdoors.
Cold-Dip Galvanized – Zinc spays to steels at all angles at a controlled rate for required thickness. It provides basic corrosion protection for indoor applications.
In addition, we provide customized services and can choose different treatment methods according to the needs of customers.
Related Solutions and Products

APAC BUILDERS EQUIPMENT LTD. has armed worksite safety professionals with best-in-class fall protection solutions in the past decade. With our safety experts engineering and testing our product lines rigorously following government laws, you can be confident you are getting the right solution to protect the people who need it most. Count on our reliable customer service to deliver everything you need. "Leave No Doubt" is our motto when it comes to worker safety.
Let's start a new project together