Welcome To APAC BUILDERS EQUIPMENT
A temporary roof is usually used to provide weather protection for a building project. Temporary roofs are efficient modular systems that can be installed and dismantled quickly and have the flexibility to remove critical sections. Whether you need to surround an entire building, a roof, or a specific work area, temporary roofs and shelters offer a universal solution for any project, from controlled temperature environments, encasement, buildings or workshops, or protective decks.
Why should use temporary roof
APAC temporary roof protects your site from bad weather!
APAC temporary roof protects your site and makes your job more profitable!
First of all, you can ensure that your project stays on schedule and is ultimately delivered on time. You can even save up to 20% of your working days if you use a temporary roof. And once a building is completed, the cost of dealing with moisture damage is very high, an APAC temporary roof is your protection against unnecessary costs.
APAC Temporary roofing brings more than just financial benefits. It also improves the working environment and mood of workers, and employees are more motivated to work in a dry, weatherproof workplace. With a temporary roof, their clothes don't get wet and they can work more efficiently in all weathers—Pouring concrete, painting, welding, etc.
Cost-effective Temporary Roof Solutions
Keder roof, also known as temporary roof system or weather protection system. It is made from Aluminium material, is a lightweight roof system for protecting weather.
APAC gonna give you the most complete and honest guide to shrink-wrap roofs, and how it's different from every other product that's on the market.
APAC's Keder Roof Sheeting system is a powerful solution for temporary weather protection. It conforms to standard DIN 4102 B1, M2 and is easy to install. 
Increase Your Business with APAC Temporary Roof
Features
Keder roof features:
The APAC keder roof system is based on aluminum lattice beams with depths of 750 mm and 450 mm. The sturdy beam provides a very sturdy structure with a large span and a long service life, and the roof of APAC can be used repeatedly.
Single or double slope roof configurations.
Durable PVC fabric tarpaulin are securely fastened in the Keder track.
Secure installation using the roll-out method.
Easy to achieve split or staggered brackets.
Keder tracks slide into place for safe and fast assembly.
Unique alloy track pins improve joint stability between tracks.
18 degree inclination for efficient water dispersal and no water pooling.
Individual compartments open easily to allow access to crane materials.
Shrink Wrap Roof features:
Water, tear and UV resistant
Save time and money
Meets flame retardant standards
Shields from harsh weather
Protects workers from field-generated dust and debris
Cases
User Guide
Your Reliable Temporary Roof Manufacturer in China
We are a factory direct supplier of quality keder roof systems, shrink warp roofs, PVC tarpaulin, and snow tarps. We have over years of experience in this field and can bring competitive prices.
Contact us for an estimate now!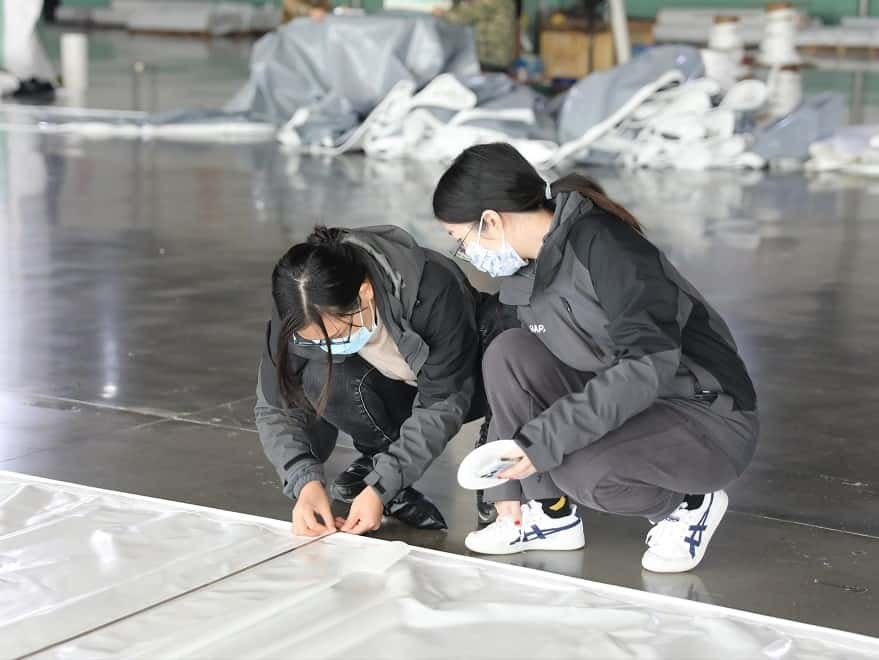 We have all kinds of videos on temporary roofs on our YouTube channel, so please go ahead and subscribe.
APAC temporary roof products meet the standard DIN 4102-1.
In this video, we set a fire under our fabric strip with no issues.  
APAC uses laser cutting technology for high production efficiency and to ensure that all products meet specifications.
The Comparison between APAC Sheeting and Others
APAC adopts fully bonded keder, which is more durable than other brands, more details in video.
Temporary Roof | The Ultimate FAQ Guide
ALL YOU NEED TO KNOW ABOUT PE TARPAULINS AND PVC TARPAULINS.
PE and PVC are two common materials in industry, but what are they? How can we choose them? Read this blog and find the answer.
What's your best choice for temporary roof cover?
Three kinds of temporary roof cover, their advantages and disadvantages, and which one is the most suitable for your projects? Read this blog and find the answer.
DOES YOUR SCAFFOLDING NEED A TEMPORARY ROOF?
Does your scaffolding need a temporary roof? The reason why need install a temporary scaffolding roof? Read more in this article.
The APAC temporary roof is simply and safely assembled on a platform at one end of the roof, and then rolled out in sections after completion. Since all materials are hoisted to the platform, the cost of the crane can be reduced to a minimum.
If you have a project that needs our temporary roof, please feel free to contact us, we will provide you with the most competitive price and good quality.