Welcome To APAC BUILDERS EQUIPMENT
H20 Beam Clamp Edge Protection System
You can see H20 Timber Beam everywhere in formwork systems. APAC can offer a range of H20 Timber Beam Edge Protection system products specifically designed to meet the challenges of safe working at height with formwork systems. 
APAC has designed and manufactured the innovative H20 timber beam clamp. For securely fixing beams and cornices to timber and timber formwork. The H20 Timber Beam Clamp Edge Protection System is the perfect formwork edge protection solution.
components of H20 Beam Clamp Edge Protection System
The H20 Timber Beam Clamp is used to install edge protection on a 40 mm H20 beam.
It provides the locking function of positioning and fixing the TG Mesh Barrier in a certain position on the TG Post 1.3m/1.8m.
APAC TG Post is manufactured from high-quality S235 Grade steel. It is available also to use the Alloy 6061/6082 T6 materials per your request.
It combines guardrails, toe board, and infilled mesh. The infilled mesh has an impact-absorbing capacity.
The 2.6m TG Mesh Barrier designed by APAC is more robust and durable. Meets the EN 13374 safety standard.
Details about H20 Timber Beam Clamp
APAC provides complete solutions for formwork edge protection in construction, the system strictly complies with BS EN 13374, OSHA 1926.502, and AS/NZS 4994.1 Standards.
These H20 beam clamps can be pre-fixed to the formwork beam during initial formwork installation and can be kept in place during formwork or table movement.
Comprehensive Installation Guidance and Expert Engineers at Your Service
Upon purchasing our edge protection products, we are committed to providing comprehensive installation guidance services to ensure a smooth and successful project. Our team will be available to assist you throughout the installation process, offering expert advice and step-by-step instructions.
Our installation guidance services include a detailed PDF and videos that outlines the recommended procedures and techniques for installing our edge protection products effectively. This documentation will cover important aspects such as proper anchoring, secure attachment methods, and alignment guidelines to guarantee the utmost safety and stability of the installed system.
Should you require any further assistance or clarification during the installation, our dedicated support team is just a phone call or email away. They will promptly address any inquiries or concerns you may have, ensuring that your installation experience is hassle-free and meets the highest standards of quality.
In addition to our installation guidance services, we offer the expertise of our professional engineers to provide tailored edge protection systems for your specific construction site. Our engineers utilize CAD (Computer-Aided Design) and 3D drawings to create customized solutions that perfectly fit your project requirements.
Our engineers work closely with you to understand the unique aspects of your work site, including its dimensions, layout, and any specific challenges or considerations. Using this information, they carefully design an edge protection system that maximizes safety and efficiency.
Factory Direct EDGE PROTECTION SYSTEMS FOR FORMWORK
The H20 edge protection system offers a high degree of flexibility in terms of geometric adjustment and is perfectly adapted to the superstructure cross-section. High-quality H20 timber beams speed up the process of concreting civil engineering works while ensuring that the workload is optimized. APAC offers quality H20 Beam and edge protection systems. Our factory has more than 10 years of experience in this industry.
Our factory is equipped with the latest generation of modern equipment. All APAC H20 temporary edge protection systems are certified products with quality control at all stages of the production process.
Applications of H20 Beam Clamp Edge Protection System
The H20 Timber Beam edge protection system is widely used in formwork structures or concrete frames in construction sites. Its greatest function is to protect workers from falling while being cost-effective.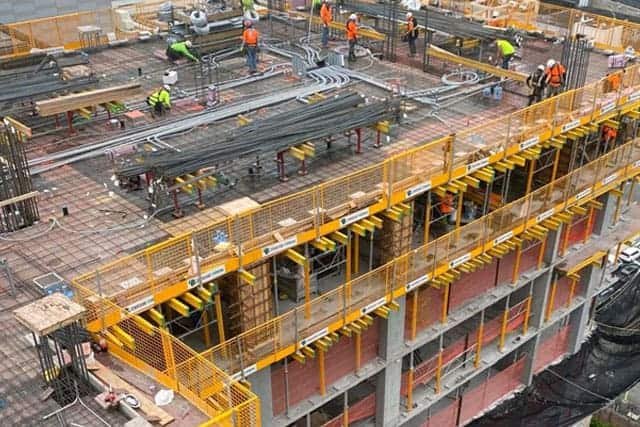 We have been rooted in the EPS industry for ten years and have rich project experience.
We provide ODM, if you don't know what you need, you can send us the project requirements, and we will customize the product for you.
7×24 hours reply, timely answer your questions online.
One-stop solutions platform covering all areas of building safety.
Various payment terms are available to you.
 The lightweight of our H20 Beam Clamp Edge Protection system means that transport costs are lower.
Timely logistics distribution without borders will escort your project progress.
Let's start a new project together