scaffold netting for sale
Scaffold neting is used for scaffoldings to prevent workers or objects from falling, causing unnessary damages, and widely used in building, bridge or other project constructions. The netting has the advantage of good impact resistance and thermal cracking resistance, enduring for use, neat and tidy. 
APAC - YOUR TRUSTED SCAFFFOLD NETTING SUPPLIER
Established in 2014, APAC is committed to providing high-quality scaffolding netting for customers all over the world. Over the years, our net has been sold to the United States, Australia, Canada, and other countries, deeply trusted and satisfied by our customers, is a trustworthy professional supplier.
High quality APAC Scaffolding netting FOR YOU
We have four types of nets for you to choose from, each type of applicable scene and protection effect is different, but each kind of product is in line with the standard and are high quality, if you do not find a net that meets your project, you can contact us directly, we can provide customized services according to your requirements.
FIRE RETARDANT CONTAINMENT MESH
FIRE RETARDANT CONTAINMENT MESH
how we manufacture Edge Protection Barrier
The Scaffold netting is usually made from 100% high-quality HDPE, HDPE means High-density polyethylene, Its density ranges between 0.941 and 0.965. It has better tear resistance, a higher surface hardness, and greater stability. It is also more thermally stable and has greater water resistance than low-density polyethylene.
If your project needs scaffolding netting or you have questions about the net, please reach out to our professional team. We can help find the perfect solution for any worksites!
MUTIPLE APPLICATION ABOUT SCAFFOLD NETTING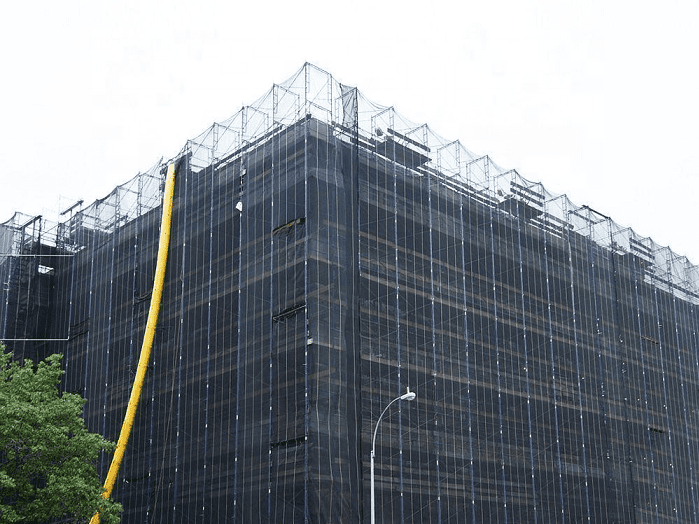 DEBRIS NET WITH SCAFFOLDING
VERTICAL DEBRIS FOR BUILDING