Adjustable Scaffold Base Jacks
The Adjustable Scaffold Base Jacks are used as the starting bases for scaffolding. It can be adjusted in height to compensate for uneven surfaces so that the scaffold is always at a level.
APAC is a manufacturer and supplier of Adjustable Scaffold Base Jacks in China. Our Adjustable Scaffold Base Jacks are perfect fit your different scaffolding systems, such as Ringlock Scaffold, Cuplock Scaffold, Kwikstage Scaffold, Shoring Scaffolding and tubing & Fitting Scaffold.
APAC's Adjustable Scaffold Base Jacks meet the loading capacity requirements of EN 12810 , AS 1576.2 and ANSI/SSFI standards.
Excellent Load-bearing Capacity Scaffold Base Jacks
APAC only offers high quality screw jacks , we strictly control every process of Adjustable Scaffold Base Jacks production , from raw material testing, welding quality to safe load capacity.
Ultimate Failure Laoding 130kN tested according to AS 1576.2
Max Laoding 39,770LBS (180kN) tested according to ANSI/SSFI SC100-5/05
At APAC you will not only find standardized adjustable scaffold base jacks, but also customized scaffold screw jacks to suit your specific requirement.
We manufactures adjustable scaffold base jacks with thread diameters from OD. 34mm to OD. 60mm to work with different scaffolding systems.
The adjustable scaffold base jacks with a OD.38mm thread diameter is the most popular scaffold screw jack. It is suitable for most scaffolding systems, especially ringlock scaffolding and cuplock scaffolding.
The solid adjustable scaffold base jacks with a OD. 36mm thread diameter is mostly used for OD. 48MM scaffold vertical standard in the kwikstage scaffolding system for Australia Market.
The adjustable scaffold base jack with a OD. 48mm thread diameter have been selected as the scaffold foot in OD.60mm verticals for shoring frame scaffolding systems.
We also manufacture OD.60mm adjustable scaffold base jacks for heavy duty aluminium support frame systems.
APAC's scaffolding screw jacks are available in electro-galvanized (zinc plated) or hot-dip galvanized finishes to suit different project budgets as well as durability requirements.
Tell us your requirements for adjustable scaffold base jacks and get consistently competitive prices from APAC.
Are you interested in other products?
APAC Ringlock scaffolding is used for all forms of access and support structures in the building, aviation, events, construction industries,ship building, industrial maintenance, ffshore construction.
APAC scaffold towers also called 3T Industrial Scaffold Tower, is manufactured from Alloy 6061 T6 or Alloy 6063 T6 materials. They strictly conform to European standard EN 1004 and Australia/New Zealand Standard AS/NZS 1576.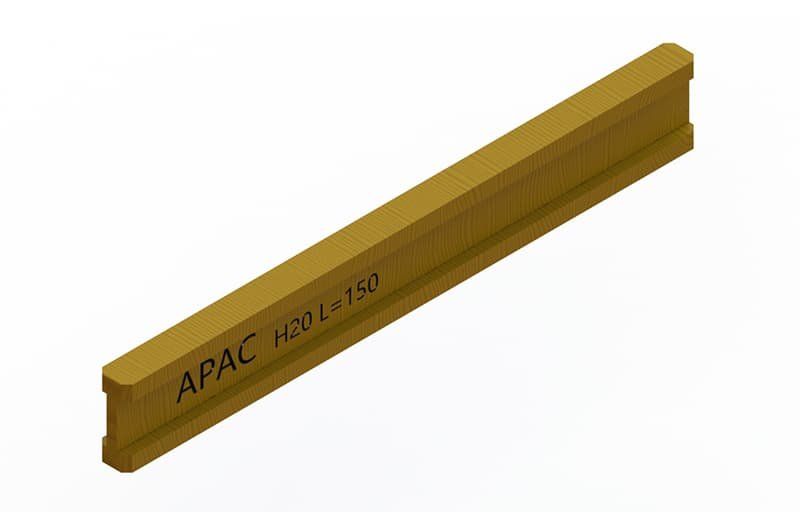 APAC always believe that the values of the section modulus and the geometrical moment of inertia apply to new or used concrete formwork H20 beam. And you have to add analogously increased factor of safety needs for severely worm beams.

APAC shoring prop is fast to erect in three simple steps, and are able to be handled by a single person, ensuring reliable and economical formwork and scaffolding applications.
APAC sales the only one-piece plastic brick guards, they are made in IS9001 certificated factory in China. We are a professional supplier with over 7 years experience, you can purchase directly from us.
APAC Safety Warning Tags are often designed to keep workers safe, but also to keep passersby safe. Construction Safety Warning Tags prevent intruders and inform readers that entry may result in injury or death, ensuring that the site remains safe even without any workers present.