Welcome To APAC BUILDERS EQUIPMENT
Steel barricades are also called crowd control fencing, removable barriers, crowd control barriers, temporary perimeter fencing, activity crowd control pedestrian barrier, portable fence, etc.
The barrier is built from high-quality carbon steel and is hot-dipped galvanized inside and out to ensure long-term weather resistance. 
Welcome to inquiry, our technical team is ready to help you!
types of STEEL BARRICADE for sale
Steel Barricades , manufactured from pre-galvanized steel round tubes, pickets inserted into frame before welded, saddle cut welded frame for greater strength, multi-layer protection powder-coated for superior anti-rust performance with various colors available, detachable feet available to maximize the space usage while transportation and storage. 
According to Customers requirements and feet can be design welded permanent and removable types.
Temporary Steel Barricades With Flat Feet
Temporary Steel Barricades with Fixed Base
Temporary Steel Barricades with Bridge Base
Steel Barrier Interlocking Crowd Control Barricade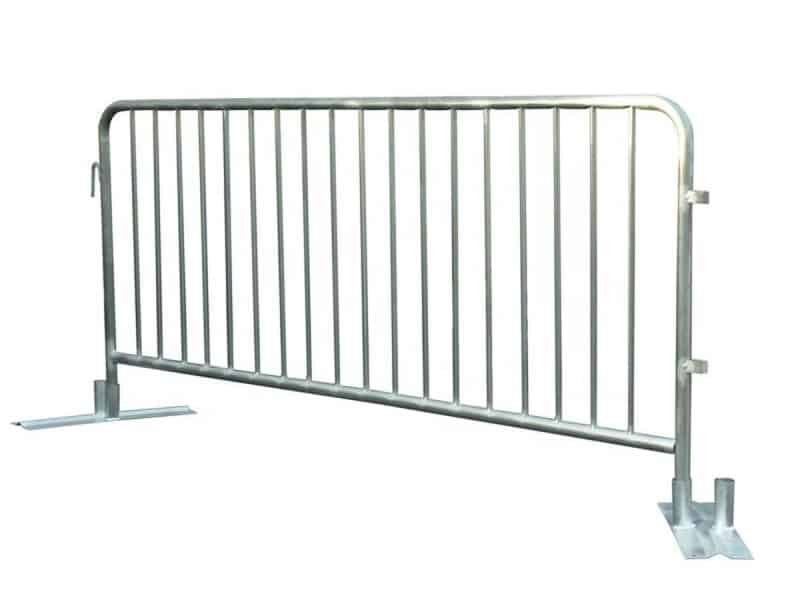 Temporary Steel Barricades With doubled Feet
powder-coated steel construction barricades
how manufacture steel barricade
One of the most reliable barricades on the market, the Steel Barricade is made from hot-dipped galvanized steel. The premium hot-dipped galvanized coating and steel make it the ideal barricade for any weather condition.
The hot-dipped galvanized steel creates a comprehensive rust-proof seal, helping increase longevity and decrease corrosion. The barricades are hot-dipped galvanized after construction and welded to fully weatherproof the entire barricade. With its simple interlocking design, the Steel Barricade can easily be hooked to another to create a long, continuous line of protection. All Steel Barricades come with removable feet that can be customized to fit a variety of landscapes and flooring types.
We have a strict quality control management system to ensure that the best products are delivered to customers. We offer our clients a wide range of quality assurance services from product design and testing, material selection and sourcing, warehousing, distribution, and delivery. Our team of skilled professionals ensures that our products are manufactured under the highest standards of quality and safety.
APAC steel barricade material
We are a leading steel barricade supplier, with more than 7 years of experience in the field of temporary fences, pedestrian barriers, and other related products. 

We have carbon steel Q235 and Q345. select your material according to your application environment. 

Our products are mainly exported to Europe, America, Australia, and Southeast Asia. We are confident that we can provide you with excellent service at competitive prices.
surface treatment for you
Pre-Galvanized: Barricade parts are dipped in zinc coating before assembly. As a result, the cost is reduced, but the durability is drastically reduced.
Post-Galvanized: The barricade was constructed completely before hot-dipped in a zinc coating. This finish may be more expensive, but it will endure all outdoor elements for many years to come.
Powder-Coated: A dry powder is applied and heated to create a "skin" on the barricade's exterior. This finish not only offers colorful options but also increased longevity to use and store outdoors.
steel barricade solutions

Offers the safest, simplest, and most secure temporary fence solutions
The applicable scope from construction sites to outdoor locations
Fully temp fencing solutions with complete fencing kits
Capability to supply both bulk orders and smaller volumes
Assist with any questions you have about temporary fencing
Fast and efficient delivery to the whole world
Let's start a new project together