The edge protection barriers are designed for preventing persons or machinery from falling. They are essential safety protection equipment for elevated areas within a worksite.
APAC offers a wide range of safety solutions to reduce on-site accidents.
Our leading edge protection barriers prevent workers from falling injuries. Whether people are working at ground or on elevated platforms, we have a selection of edge protection barrier system to make sure their safety.
Multi-Application edge protection Barriers FOR YOU
APAC knows the edge protection system inside and out for over 15 years. We take a deep dive into the details of what you need, providing solutions for each project. 
Our edge protection barriers are engineered and manufactured in a range of sizes & heights, to the standards BS EN 13374 and AS/NZS 4994.1. There are also several different fixings available to allow you to install, reposition, and remove in a variety of ways, depending on your site.
If you would like your wire mesh barriers powder-coated in specified colors, just reach out to a member of our team, we can make the barriers in any color required.
Top and bottom frame profiles for added strength
widths: 1.3m, 2.6m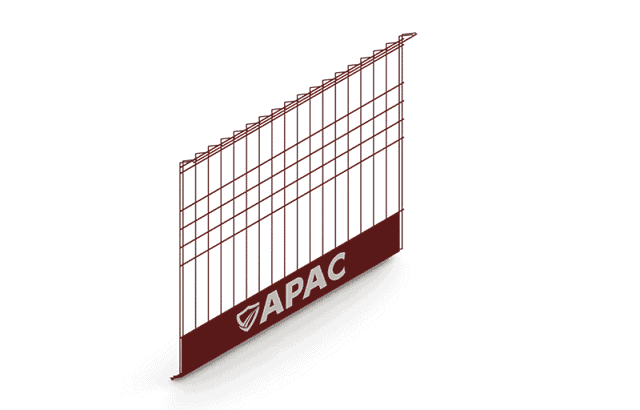 Light to carry, adjustable height with no need for disassembly
widths: 1.3m, 2.6m
Flat-pack, easily stacked in barrier frame for transporting or storing vertically
widths: 2.9m
Flexible to reduce gaps along scaffolding edges
widths: 1.2m, 1.8m, 2.4m
Temporarily protecting the edges of stairways during construction
Size: 1962mm×1044 mm
Extension barrier enabling total height to be achieved
widths: 1.3m, 2.6m
Adaptive barriers to most edge protection system brands
The edge protection barriers are most commonly placed around the edges of the high-rise building under construction. They can be installed onto the edge of the concrete slab or formwork table, and fitted to the scaffolding or steel structure.
Lightweight and cost-efficient steel mesh barrier panel,suit with brands: Combisafe, Altrad, Doka, TLC, J-safe
The panel especially added tube frame/ steel bar for more stability, suit with brands: Kguard, Rapid-EPS, SafetyRespect
more details about apac Edge Protection BarrierS
Top-class welded steel frame for enhanced resistance and durability.
High toeboard at the bottom, for additional protection of debris falling from height.
Flexible wire mesh to reduce the risk of injuries in case of falling in Class A & Class ABC
How we manufacture Edge Protection Barriers
APAC Edge Protection Barrier is the most robust on the market. Our barriers provide ultimate flexibility, whilst making your site more productive through ease of installation.
All of our edge protection barriers are rigorously tested, adhering to safety standards BS EN13374 and AS/NZS 4994, which means you can ensure that your worksites are compliant safety. Thousand tons of our products are exported to many countries across North America, Australia and Europe every year.
However, should you require customized solutions for special applications, bespoke steel mesh barriers can also be provided.
If you and your project need edge protection barriers, please reach out to our team. We can help find the perfect solution for any worksites!
edge protection barrier Inhouse test
concrete edge protection installation
customize your SURFACE TREATMENT
We have a variety of surface treatment methods, you can choose what you want. The surface treatment depends on the use of the product and your needs, our professional engineers will guide you to choose the best material and method that suits your product.
You can also choose the color of the surface treatment and whether you want the surface to be painted or clear coated.
Quality control ensures the best products
Quality Meets Excellence is our company's motto and it means that we are committed to delivering quality products to our customers. We have strict quality control management system to ensure that the best products are delivered to customers. Our employees work hard to make sure that your purchase is delivered in time, as promised.
Our goal is to provide you with superior customer service and great products at reasonable prices. We want all of our customers to be happy with their purchases and will do whatever it takes to make sure they are satisfied.
There are various edge protection barrier standards, but what are they? How to choose edge protection barriers that meet your projects? Let's read this blog or you can consult our experts directly!
Applications of edge protection barriers
EDGE PROTECTION BARRIER solutions

China #1 Edge Protection Systems manufacturer and supplier
Offers free design service and one-stop solution
Edge Protection Barriers maximum versatility to other brands
Fully edge protection solutions with interchangeable components
Capability to supply both bulk orders and smaller volumes
Samples in stock ready for delivery
Fast and efficient delivery to whole world
Let's start a new project together