Welcome To APAC BUILDERS EQUIPMENT
Slab Grab edge protection System
APAC slab grab edge protection system can greatest meet the safety and security in use because we produce strictly according to the criteria rules of certification.
On the one hand, it can protect workers from falling from buildings. On the other hand, it can prevent pedestrians from being threatened by falling objects from high.
Both horizontal and vertical, the slab clamp can be securely installed in the edge opening. Installation is also time-saving and labour-saving work. One person can complete it independently within a few minutes to ensure the progress of the project.
slab grab edge protection system - components
The Typical components for the Slab Grabber Edge Protection system are:
Slab Clamps (to slab edges, concrete upstands, etc)
Safedge Safety Posts
Safety Mesh Barriers/Mesh Panels
APAC manufactures and sells high-quality Multi Slab Clamp. It conforms to the standard of EN 13374, AS/NZS 4994. 1, AS/NZS 1170 and OHSA Standard.
The Edge Protection Safedge Post 1.2m is integrated with two latch pins for locking the mesh barrier in position.
You can extend the height of the Safedge Bolt Down edge protection system by up to 1.8 m with the extension posts.
APAC Safedge Mesh Barrier 1.3m is Edge Protection Parts. It is guardrail Element of the Edge Protection System.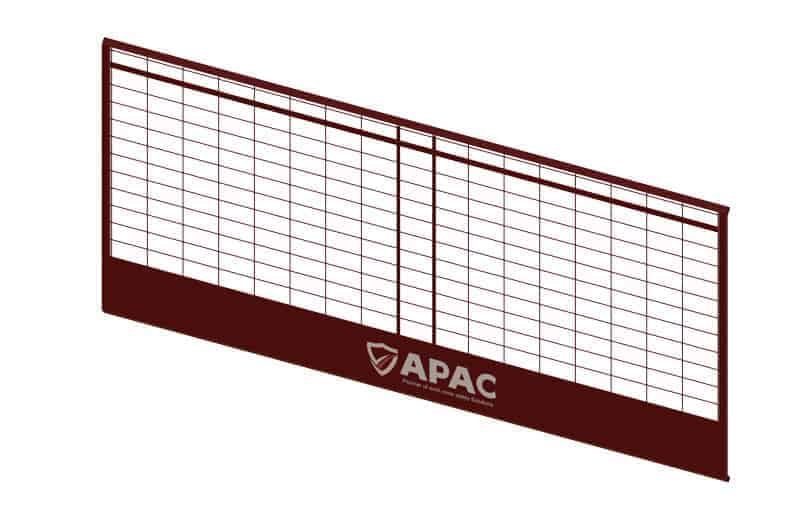 Safety mesh barriers 2.6m are system protection barriers with mesh infill. You can customize Safedge mesh barriers for your edge protection demand.
1.3M EXTENSION MESH BARRIER
1.3m extension mesh barrier is always used together with mesh barrier 1.3m.
2.6M EXTENSION MESH BARRIER
You can extend the height of the Safedge Bolt Down edge protection system up to 1.8 m by using the 2.6m extensions mesh barrier.
Why choose our PRODUCTS INSTEAD OF WOOD SLAB GRAB EDGE PROTECTION SYSTEMS
APAC slab grab edge protection system is rapidly replacing wood protection systems due to their fast installation, easy maintenance, and strong load bearing.
A slab grab edge protection system can be installed in a short amount of time in many edge environments using standard equipment.
Components can be easily maintained and replaced on-site. It is safer and more durable than wood and can be reused for different construction projects.
how to install slab grab edge protection system
When it comes to installing the Slab Grab Edge Protection System, we understand that proper guidance is essential. Our commitment to delivering a seamless experience leads us to provide comprehensive installation support.
Our installation guide covers every step of the process, ensuring a smooth and efficient installation of the Slab Grab Edge Protection System. From initial preparation to final adjustments, we leave no stone unturned.
Furthermore, our team of experienced engineers is always available to answer any questions or concerns you may have during the installation process. With their expertise and dedication, they will ensure that the Slab Grab Edge Protection System is properly installed, meeting the highest standards of safety and performance.
edge protection systems recourse for you
At APAC, we are dedicated to delivering exceptional solutions that surpass your expectations. That's why we are thrilled to offer 3D drawings for our cutting-edge edge protection system. With these immersive visualizations, we bring a new level of clarity and precision to your project's planning and execution.
Our team of skilled engineers employs advanced technology to create detailed 3D drawings of our edge protection system. These drawings provide an accurate representation of how the system will fit seamlessly into your specific project. By visualizing the system in three dimensions, you gain a comprehensive understanding of its placement, scale, and functionality. This invaluable insight enables efficient decision-making and ensures a seamless integration of our edge protection into your construction process.
APAC Edge Protection Systems provide ultimate flexibility, whilst making your site more productive through ease of installation.
All of our edge protection devices are rigorously tested, adhering to safety standards BS EN13374 and AS/NZS 4994.