Welcome To APAC BUILDERS EQUIPMENT
Socket Base Stair Edge Protection System
During the construction phase, stairs are very common walking surfaces on construction sites. Falls from stairs can result in serious injury or even death, so you must use stairway edge protection systems in the work zone. The systems will protect workers from the risk of slipping, tripping, and falling on any walking/working surface.
The APAC socket base stairway edge protection system protects workers when they are using stairs.
Edge Protection System - components
As a leading stair edge protection system manufacturer and supplier in China, the socket base solution for stairways is an excellent protection system for the safety of your construction sites. You can use APAC's Socket Base Stairway Edge Protection System in all types of concrete, timber, or steel stairs.
Socket base can be installed as attachment for edge protection on the slab edge, stairs and other situations where there is a risk of falling. 
The Edge Protection Safedge Post 1.2m is integrated with two latch pins for locking the mesh barrier in position.
Adjustable Link Bar Handrail
The adjustable link bar is used to set up collective fall protection for stairs, shafts, and openings.
why choose apac edge protection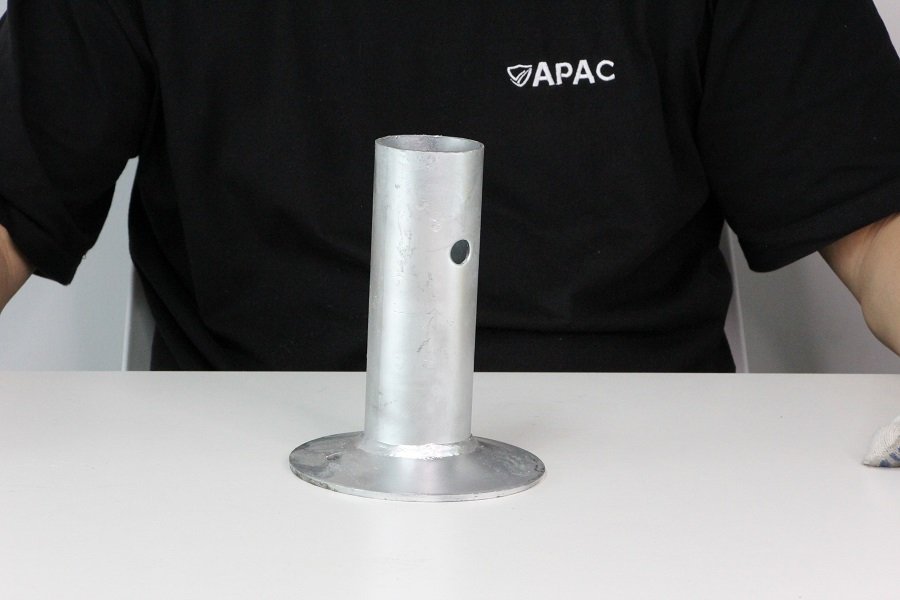 For safety, stairs shall be equipped with at least one handrail and one stairrail system. The Socket Base Stairway Edge Protection System should be provided along each unprotected side or slab edge. The varying nature of stairs, landings, and returns often required many cutting tubes, sharp ends, and many specially constructed protections.
APAC Socket Base Staiway Edge Protection is designed to solve these problems by providing a systematic solution.
The system complies with EN 13374.
The socket bases, link bars, and stair safety posts for the stairway edge protection system are hot-dipped galvanized surface finishing.
Robust and durable unit with a long life and high return on investment.
Complete range of edge protection for you to choose from, but also brings you competitive prices.
What's more, you can get free design and OEM services here.
Send us your request for pricing on our Socket Base Stairway Edge Protection systems and components today.
free customized 3d design for you
APAC can provide you with free design services, drawings, and calculations for the Edge Protection System and also offers advanced 3D drawings. You can work with us to help you keep your work zone safe and secure. We can custom any type of edge protection based on your project with detailed requirements.
Send us your request today and we will generate a quote with everything you need for your edge protection system project.
Clamp on Stairway
Socket Base Stairway
Mesh Barrier Stairway
Clamp on Stairway
Clamp on Stair Edge Protection
Socket Base Stairway
Socket Base Stairway Edge Protection
Mesh Barrier Stairway
Mesh Barrier Stair Edge Protection
Download APAC Latest Edge Protection System Catalog
In addition to staircase edge protection systems, APAC offers comprehensive edge protection for concrete edges, steel structures, and formwork structures, and can be downloaded from our latest catalog for more information.