Welcome To APAC BUILDERS EQUIPMENT
Temporary fence is also named portable fencing, removable fencing, and mobile fencing. Temporary fence usually includes panels, clamps, molded plastic feet or metal stand, and some portable fences with bracing and barbed wire.
Temporary fencing braces provide additional stability for temporary fencing installations in windy and public areas. The use of privacy screens, banner mesh, and shade cloth increase the chance of fencing blowing over in high winds.
temporary fence bracing for sale
These temporary fence stays are hot-dipped galvanized for durability and attach easily to the temporary fence. More sizes can be customized. Based on our excellent quality, considerate service, and competitive price, our products enjoy high reputation in the market.
Stabiliser with Cross Brace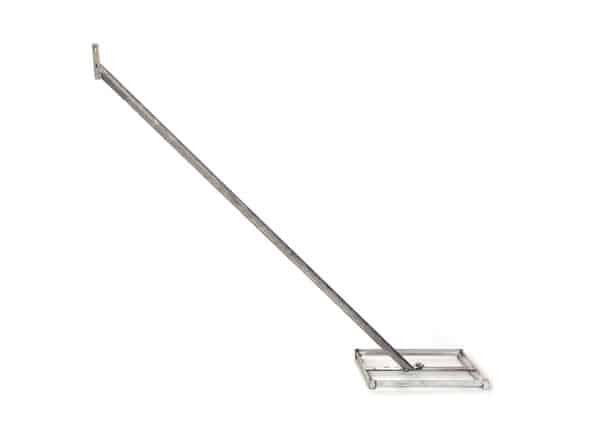 stabiliser with ballast tray
Heavy Duty Temporary Fence Brace
Heavy Duty Fencing Brace to suit concrete feet
Fence Stabiliser with Cross Brace
automatic welding of fence panel
We also supply a premium temporary fencing panel, which includes safe edge design, where the anti-climb mesh on the temporary fencing panel is welded into the tubular frame. Due to the mesh being set inside the frame of the panel it does have a longer life span whilst also reducing the risk of handlers or civilians harming themselves.
Otherwise, these temporary mesh fencing panels can easily be connected to one another using fence clips and sit in rubber block fence feet.
Please don't hesitate to contact us if anything is needed.
We have a strict quality control management system to ensure that the best products are delivered to customers. We offer our clients a wide range of quality assurance services from product design and testing, material selection and sourcing, warehousing, distribution, and delivery.

Our team of skilled professionals ensures that our products are manufactured under the highest standards of quality and safety. The entire manufacturing process is carried out in-house at our state-of-the-art facilities. Our in-house testing laboratories ensure that each and every product conforms to international standards.
surface treatment for you
All of our metal products undergo surface treatment before shipping in order to achieve color and corrosion resistance.
The most common treatment was powder coating, zinc galvanizing, and spray painting. We give pre-treatment of metal prior to treatment, to ensure the coating is durable and long-lasting.
Zinc Galvanizing
On steels, we offer both hot dip and cold galvanizing for zinc galvanizing.
Before galvanizing, metals have been soaked in a caustic bath.
Hot Dip – Steel immerses in a molten zinc bath to create durable and tough zinc alloy layers. It provides maximum corrosion protection for steel when used outdoors.
Cold – Zinc spays to steels at all angles at a controlled rate for required thickness. It provides basic corrosion protection for indoor applications.
In addition, we provide customized services and can choose different treatment methods according to the needs of customers.
related construction fence projects
We have a wide range of designs, including Australia temporary fences for sale, Canada temporary fences for sale, temporary chain link fences for sale, and many more. Our products are made from high-quality materials that ensure durability and reliability. The fences are also easy to assemble so you can quickly install them anywhere you want.
We are a leading manufacturer of temporary fencing. Our products are sold all over the world. Click the link and check out our projects!
Browse our product categories

Offers the safest, simplest, and most secure temporary fence solutions
The applicable scope from construction sites to outdoor locations
Fully temp fencing solutions with complete fencing kits
Capability to supply both bulk orders and smaller volumes
Assist with any questions you have about temporary fencing
Fast and efficient delivery to the whole world
Let's start a new project together