Welcome To APAC BUILDERS EQUIPMENT
TG bolt down edge protection system
TG Bolt Down Edge Protection System is another fall protection system for concrete construction projects or Timber structures. The system is developed and manufactured by APAC Builders Equipment in China.
The difference between the TG Bolt Down and Safedge Bolt Down Edge Protection system is TG system is more lightweight and has no frame welded outside of the temporary construction fence panel.
EDGE PROTECTION - PRODUCTS
The TG foot of the APAC is usually mounted on the top surface of a slab. It allows mechanical fixing to a flat surface application.
The multi-foot is an integral part of the bolt-on edge protection system. It is an alternative to the TG foot or socket base.
It provides the locking function of positioning and fixing the TG Mesh Barrier in a certain position on the TG Post 1.3m/1.8m.
APAC TG Post is manufactured from high-quality S235 Grade steel. It is available also to use the Alloy 6061/6082 T6 materials per your request.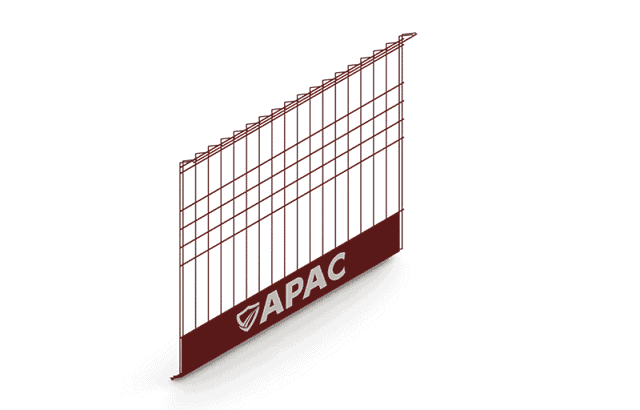 It Combines guardrails, toe board, and infilled mesh. The infilled mesh has an impact-absorbing capacity.
The 2.6m TG Mesh Barrier designed by APAC is more robust and durable. Meets the EN 13374 safety standard.
Make Up Mesh Barrier 1.3m
Makeup Mesh Barrier 1.3m is used in combination with the 1.3m TG Mesh Barrier to gain extra coverage height.
Make Up Mesh Barrier 2.6m
Makeup Mesh Barrier 2.6m is used together with the 2.6m TG Mesh Barrier to gain an extra coverage height of 1.8m.
features of this edge protection system
No need to harm the concrete surface: Our edge protection system is designed in a way that eliminates the need for any drilling or damaging to the concrete surface. This feature saves time and effort during installation, as well as avoids any potential damage to the underlying structure.
Lightweight mesh: The mesh used in our system is incredibly light, making it easy for workers to lift and maneuver during installation. This not only reduces the physical strain on workers but also increases efficiency by allowing for quicker and easier handling.
Fast installation: Due to its lightweight nature, our edge protection system can be installed swiftly. The reduced weight means that workers can cover larger areas in less time, minimizing installation duration and labor costs.
By prioritizing labor savings, our edge protection system offers a solution that not only enhances worker productivity but also reduces overall project costs. With its non-invasive installation methods and lightweight materials, our system is designed to make the process faster, more efficient, and ultimately more cost-effective for our clients.
3D DISPLAY FOR EDGE PROTECTION
We offer a complimentary 3D design service to our clients. Our skilled engineers will work closely with you to create customized 3D model drawings of the edge protection system. This service allows you to visualize every detail.
We provide an innovative edge protection system that ensures maximum protection for your construction sites. Our system is designed with EN 13374 and AS/NZS 4994 to safeguard against accidental impacts.
With years of experience in the industry, we have established ourselves as a trusted provider of edge protection solutions. Our reputation is built on delivering high-quality products and exceptional customer service.
We are passionate about the satisfaction of our clients and take pride in offering innovative solutions backed by outstanding service. Please do not hesitate to reach out to us and take advantage of our free 3D design service. Our team is ready to assist you in finding the perfect edge protection system for your projects.
comprehensive installation guide for you
Step 1: Drill 12mm holes which are at least 75mm deep and 200mm from the concrete slab edge side.
Step 2:Make the TG Foot be anchored to the top of the concrete prefab slabs, pls check the video
Step 3:Install the TG Post 1.3m
Step 4: Installation of TG barrier clips, TG barrier clips are not a necessary requirement, you can replace them with a steel wire tie. For the TG bolt down edge protection system, one TG post needs one TG Barrier Clip.
Step 5: TG Mesh Barrier Installation Insert the TG mesh barrier to the safety post from the top and position it with TG Barrier Clip.

China #1 Edge Protection Systems manufacturer and supplier
Offers free design service and one-stop solution
Edge Protection Barriers maximum versatility to other brands
Fully edge protection solutions with interchangeable components
Capability to supply both bulk orders and smaller volumes
Samples in stock ready for delivery
Fast and efficient delivery to whole world
Let's start a new project together