Welcome To APAC BUILDERS EQUIPMENT
TG Edge Bracket Edge Protection System
APAC provides slab edge bracket edge protection system for the concrete or steel frame structure, to create a safe worksite and protect your workers from falls from height during the work.
With the help of our dedicated team, we are proud that our edge bracket edge protection systems help our customers to minimize risk. We put priority on our responsibilities and make the right decision for every production.
All APAC fall protection products are manufactured and shipped in strict accordance with the ISO9001 standards
Fast and timely delivery
Speedily and professional service
Free Samples are available for quality approval
COMPONENTS OF TG Edge Bracket Edge Protection System
APAC ensures all our edge bracket edge protection system components conform to EN13374, AS/NZS 4994.1, OSHA 1926.502 and ONTARIO REGULATION 213/91 standard.
Green scaffolding tags indicate that a section of scaffolding has been inspected and certified as completely safe to use.
It provides the locking function of positioning and fixing the TG Mesh Barrier in a certain position on the TG Post 1.3m/1.8m.
APAC TG Post is manufactured from high-quality S235 Grade steel. It is available also to use the Alloy 6061/6082 T6 materials per your request.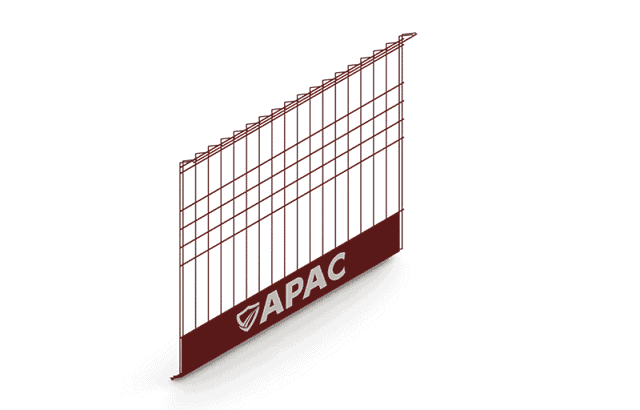 It Combines guardrails, toe board, and infilled mesh. The infilled mesh has an impact-absorbing capacity.
The 2.6m TG Mesh Barrier designed by APAC is more robust and durable. Meets the EN 13374 safety standard.
Makeup Mesh Barrier 1.3m is used in combination with the 1.3m TG Mesh Barrier to gain extra coverage height.
Makeup Mesh Barrier 2.6m is used together with the 2.6m TG Mesh Barrier to gain an extra coverage height of 1.8m.
advantages of TG Edge Bracket System
details about apac tg edge bracket
TG Edge Bracket Systems is an excellent solution for erecting barrier systems on the edges of precast concrete slabs and stairs.
In contrast to bolt down edge protection systems and slab grab edge protection systems, TG edge bracket systems can be mounted outside the edge without taking up space inside the border.
Using a TG edge bracket system is a wise choice if you install a guard system on the edge of a tight space, as this will give you maximum clearance access.
Factory direct apac edge protection system
The APAC slab edge bracket can be mounted on concrete to provide protection to the slab edge. The slab edge bracket is supplied with a screw bolt which is tightened and held stable by nailing to the concrete.
APAC manufactures the slab edge brackets from high-quality S235 grade steel. The tubes have a diameter of 57 mm and allow insertion into TG Post 1.3m or TG Post 1.8 m.
As your trusted edge protection manufacturer, APAC helps you create a safer working environment at the edge of the slab by using our slab edge brackets. APAC is your specialist edge protection bracket partner in China
We provide full support for your slab edge bracket needs, from free consultation, design, and manufacture all the way through to delivery to you.
All product parts for the slab edge bracket edge protection system will be well packed and stacked in the steel pallet, to ensure there has no damage during the transportation.
For shipment, we recommend that you start with one full container, as shipping costs can be expensive with less than one container, even if you choose to ship by sea.
If you are looking for an edge protection for Slab Edge, choose APAC. we can provide them for you without any problems or any issues.