Welcome To APAC BUILDERS EQUIPMENT
Walkway Barrier Edge Protection System
APAC manufactures high-quality Walkway Barrier Edge Protection components, the system is used to establish safe walkway zones during construction.
The Walkway Barrier Edge Protection system is a stable, robust, and fast mounting system. It can be used on the formwork deck to provide a demarcation zone 1.98m back from the leading edge.
The Walkway Barrier Edge Protection System provided by APAC is easy to install. It provides simple access to the most complex work zones.
components of Walkway Barrier Edge Protection System
The Walkway Counterweight Footplate is used in conjunction with APAC's mesh barrier, socket base, and safety post for temporary blocking in traffic environments, construction sites, events, etc.
It is lockable at different positions and can be supplemented with a socket base. Combined with a Safedge Mesh Barrier 2.6m or Safedge Mesh Barrier 1.3m.
Socket base can be installed as attachment for edge protection on the slab edge, stairs and other situations where there is a risk of falling. 
The Edge Protection Safedge Post 1.2m is integrated with two latch pins for locking the mesh barrier in position.
APAC Safedge Mesh Barrier 1.3m is Edge Protection Parts. It is guardrail Elements of the Edge Protection System.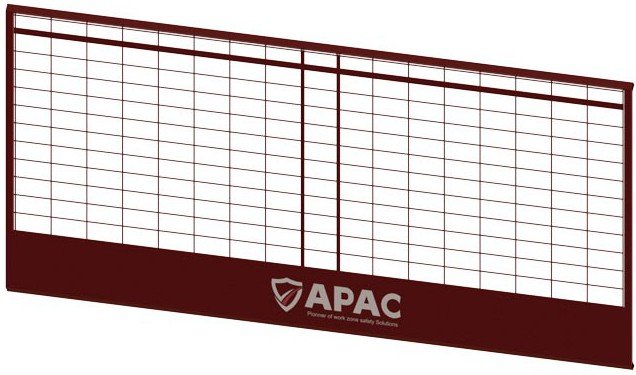 Safety mesh barriers 2.6m are system protection barriers with mesh infill. You can customize Safedge mesh barriers for your edge protection demand.
Advantages of Walkway Barrier Edge Protection System
The Walkway Counterweight Footplate has a length of 900 mm and a width of 300 mm, it has sufficient contact area with the ground to carry the self-weight of the system.
The walkway counterweight footplate is made from S235 carbon steel and is equipped with three mounting holes to install our socket base, or can choose the mounting holes according to your project.
The holes in the walkway counterweight footplate are pre-welded with nuts, allowing you to quickly install the temporary blocking on-site and secure them well without the need for additional accessories.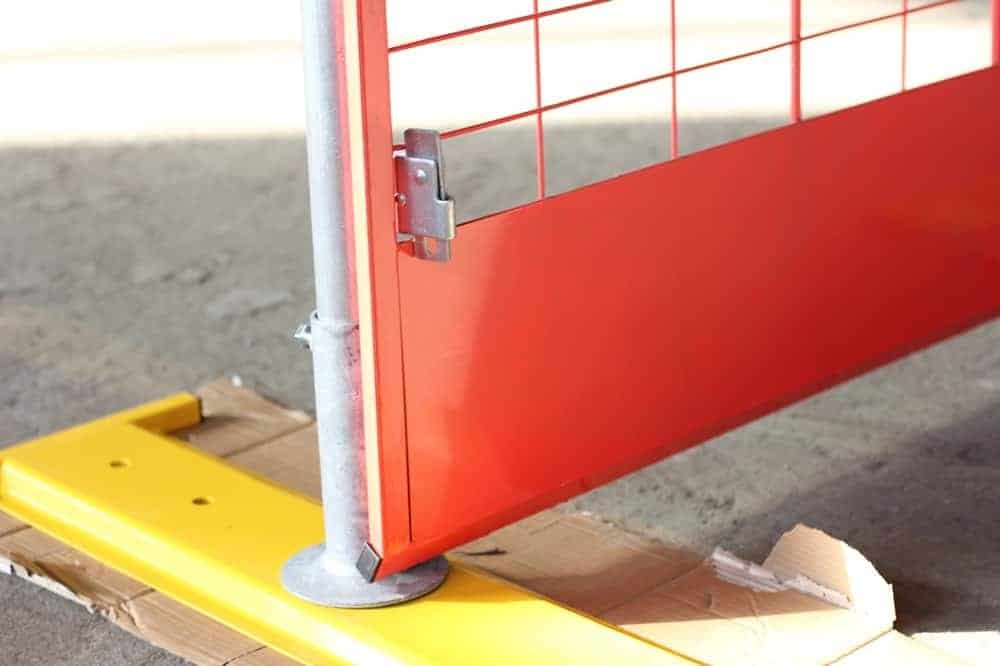 The walkway footplate is used together with the safety post 1.2 m and mesh barrier 2.6 to set up a walkway barrier edge protection system.
The wire grid of each galvanized welded mesh panel has centered not exceeding 150mm x 75mm, 50mm x 50mm can be customized.
Furthermore, the mesh barrier includes a galvanized toeboard at the bottom. Debris can be avoided from falling through the bottom of the panel by using this solid toeboard.
Two 25 x 25 square tubes are welded to the walkway counterweight footplate, each end of them has a rubber cover on it to enable the whole pedal to withstand rain and prolong its life.
We have also welded a 10mm thick counterweight block to the Walkway Counterweight Footplate to increase their weight this unique design makes the whole tread more robust and durable compared to a flat plate and enables them to withstand their own weight and the effects of wind.
Our walkway edge protection barriers are usually powder-coated after welding. You can choose any RAL color you like, and you can also ask for the hot-dipped galvanized surface treatment for it.
If you need an edge protection system, please get in touch with our team. We can help find and customize the perfect solution for any worksite!
As your trusted edge protection manufacturer, APAC helps you create safer blocking and temporary enclosures by using our Walkway Footplate.
We provide full support for your Walkway Footplate needs, from free consultation, design, and manufacture all the way through to delivery to you.
We make sure that your Walkway Footplate conforms to international safety standards, such as EN 13374, and AS/NZS 4994.1.
We can offer you a small production service to support your start-up business. Enquire now for your next order of Walkway Footplate!
projects of Walkway Barrier Edge Protection
Our edge protection systems have been successfully implemented in various countries around the world, including the USA, UK, Australia, Canada, and many others. We take great pride in providing high-quality solutions that ensure the safety and efficiency of construction projects on a global scale.
With over seven years of experience in the industry, we have honed our expertise and refined our products to meet the evolving needs of our clients. Our commitment to excellence has earned us recognition as a reliable and trusted provider of edge protection systems.
To showcase the effectiveness of our products, I invite you to view one of our exemplary projects in Texas, USA. This project, implemented in collaboration with APAC (Asian Pacific Construction), demonstrates the superior performance and reliability of our edge protection systems. It serves as a testament to our dedication to delivering exceptional results for our clients.

China #1 Edge Protection Systems manufacturer and supplier
Offers free design service and one-stop solution
Edge Protection Barriers maximum versatility to other brands
Fully edge protection solutions with interchangeable components
Capability to supply both bulk orders and smaller volumes
Samples in stock ready for delivery
Fast and efficient delivery to whole world
Let's start a new project together