Welcome To APAC BUILDERS EQUIPMENT
Yellow tags are known as "Caution Tags" and mean that scaffold inspection is done but additional safety is required. Based on the results of an additional inspection, yellow tags can be removed and an appropriate tag (green or red) will be hung on the scaffold.
They are required on scaffolding working project, because the OSHA requires: "Scaffolds and scaffold components shall be inspected for visible defects by a competent person before each work shift, and after any occurrence which could affect a scaffold's structural integrity."
The plastic scaffold status tags are tear-resistance. There are form-type inspection record table on the back side, and able to write on the tags.
Supply Wholesale yellow scaffold tags
APAC yellow scaffold tags are your durable, weatherproof option, stand up to sun, rain, sleet, wind-borne sand and dirt.
We provide a number of yellow scaffold tags that not only help your facility stay in compliance with OSHA scaffold requirements and standards but can also protect the lives of your workers.
Browse for more products in this category as below:
2-Sided Scaffold
Status Tag: Caution
Yellow Laminated Scaffolding Tags
Warning Inspection insert and Holder
Yellow replacement insert
how we manufacture scaffolding safety tags
We are an enterprise with a deep understanding of the construction worksite safety field. Own related production factory to support customized, personalized needs of scaffold tags and other safety equipment.
All of APAC's yellow scaffold tags comply with the OSHA standards and recommendations.
We also offer a wide variety of scaffolding tag products, such as scaffolding tag kits, scaffolding tags insert, and holders.
Our unique products, competitive prices, and friendly one-on-one service have set us to have customers all over the globe.
Need help? Please tell us your needs, we'd love to help you out!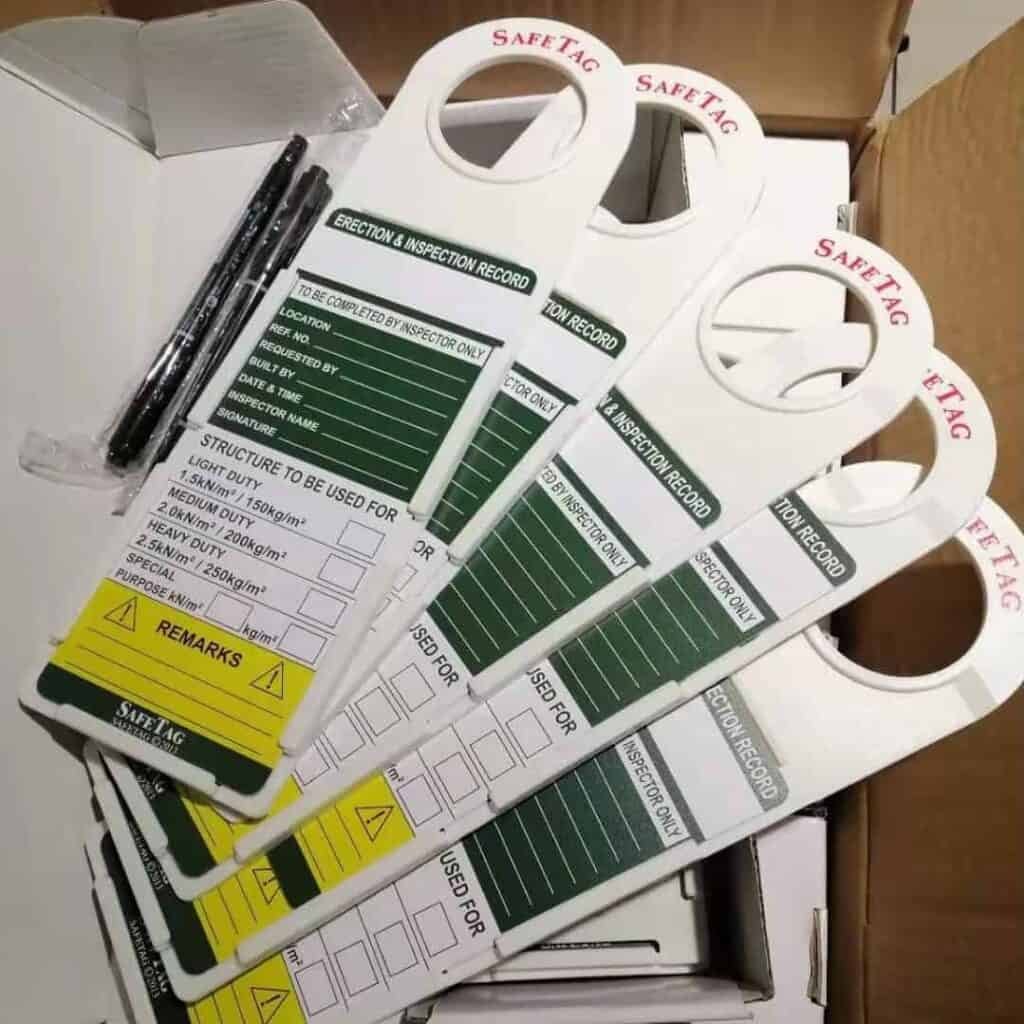 We have a complete set of manufacturing equipment, which enables us to meet customer requirements for custom-made products. We have more than years of experience in producing scaffolding tags. Our scaffolding tag is of great quality, and all the products are subject to quality inspection. We have a complete set of manufacturing equipment, which enables us to meet customer requirements for custom-made products.
We provide our customers with different types of scaffolding tags. The price is reasonable, and the service is good! If you have any needs for scaffolding tags, please feel free to contact us!
PF-Cardstock
PF cardboard is pulp-free, they do not contain wood pulp or paper like ordinary cardboard, flexible, tear-resistant, and suitable for indoor or outdoor short-term use.
RP-Plastic
High strength, tear resistant, weather resistant, chemical resistant to dirty and greasy environments, suitable for indoor and outdoor temporary marking applications
HS-Laminate
HS-Laminate is a composite material that is very strong, with a matte finish and easy to write on. It is tear-resistant, weatherproof and chemical-resistant, and suitable for use in extreme weather.

Offers a huge selection of scaffolding tags for sale
Manufactured and shipped from China
Compliant with OSHA, ANSI, ISO, and other standards.
Outdoor durability
Fully worksite safety solutions 
Capability to supply both bulk orders and smaller volumes
Free samples are avaliable
Fast and efficient delivery to whole world
Let's start a new project together