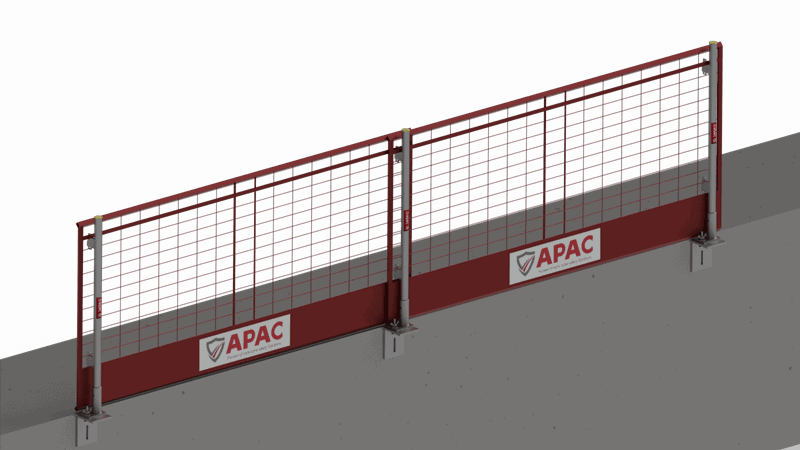 Welcome To APAC BUILDERS EQUIPMENT
Edge Bracket Edge Protection System
APAC is a professional manufacturer of edge bracket edge protection systems in China. We are dedicated to the production of the Safety Edge Protection System. APAC has accumulated rich experiences over the past few years. APAC creates value for our customers with superior technology and advanced technology. We provide our customers with a one-stop service for Edge Bracket Edge Protection Systems. Our firm has the authority to import and export, our products are manufactured in China and we are actively exploring overseas markets.
edge protection system - products
The typical Edge Bracket Edge Protection System has three main components:
Edge Bracket
Safety Mesh Barrier/Mesh Panels
Safety Posts
Conform EN 13374, AS/NZS 4994, and OHSA standards. It can be adjustable in both horizontal and vertical directions.
The Edge Protection Safedge Post 1.2m is integrated with two latch pins for locking the mesh barrier in position.
APAC Safedge Mesh Barrier 1.3m is Edge Protection Parts. It is guardrail Element of the Edge Protection System.
1.3M EXTENSION MESH BARRIER
1.3m extension mesh barrier is always used together with mesh barrier 1.3m.
Professional engineers talk to you directly
We have a dedicated team of highly skilled engineers and experienced sales professionals who are ready to offer their expertise and support. Our engineers specialize in designing edge protection products that are tailored to suit your unique project requirements, considering the specific usage scenarios at your work site. They aim to provide solutions that not only meet your safety needs but also offer cost-effectiveness.
Our edge protection products are built using high-quality materials and adhere to industry standards and certifications. We prioritize the safety and durability of our products to ensure they withstand the demanding conditions of various work environments. Additionally, we understand the importance of customization. If you require specific dimensions or if you'd like to have your company logo prominently displayed on the mesh, our team can accommodate those requests.
Discover our comprehensive range of edge bracket edge protection systems in our latest catalog. Designed with superior technology and built to meet international safety standards, our systems ensure safety for workers at heights. Feel free to download the catalog and explore our high-quality products.
Mesh Barrier powder coating
APAC manufactures high-quality edge bracket for edge protection systems, the surface is hot-dipped galvanized finishing, and we use S235 grade steel material to produce the slab edge bracket. 
Fast and timely delivery

Speedily and professional service

Free Samples are available for quality approval
Since APAC has over 7 years of experience in the construction industry, we specialize in providing equipment and solutions for construction site safety. We assure you that all of our Edge Bracket Edge Protection System products are tested and certified.