Welcome To APAC BUILD EQUIPMENT
World Leading Temporary Edge Protection Systems for Construction Industry
As the industry pros dedicated to Jobsite edge protection through superior equipment and solutions, APAC believes in safety above all.
So we design and manufacture in-house our edge protection products for great versatility and easy assembly. Each product meets OSHA, EN 13374, and AS/NZS4991 safety standards.
When it comes to applications, our edge protection solutions are unrivaled in the blend of breadth and depth, backed up by over years' experience and custom engineered systems designed around your needs.
one-stop edge protection solutions
We provide one-stop systems to make your construction site safer and more efficient. Our edge protection systems are designed to meet the needs of even the most complex site conditions.
We understand that every construction project is unique, and that's why we offer a range of edge protection solutions that can be customized to fit your specific needs. Whether you're working on a high-rise building, a bridge, or any other type of construction project, our edge protection systems will help you get the job done safely and effectively.
Provide several ways to operate the solution, such as top slab mounted, slab edge-mounted, slab grabbed, and full height compression from the floor to the ceiling.
For steel structure edge protection solution, we mainly provide several ways to operate the system, such as top bolted, clamped, and welded to horizontal steelwork.
The fixation of concrete stair system may be restricted by complexed worksite, APAC will consider each application individual and customize your own stair edge protection system based on these.
Rooftops are a frequent spot for accidents during construction, measures must be taken to prevent workers from falling.
Expert Engineers at Your Service: Delivering Professional Solutions
We have a dedicated team of highly skilled engineers and experienced sales professionals who are ready to offer their expertise and support. Our engineers specialize in designing edge protection products that are tailored to suit your unique project requirements, considering the specific usage scenarios at your work site. They aim to provide solutions that not only meet your safety needs but also offer cost-effectiveness.
Our edge protection products are built using high-quality materials and adhere to industry standards and certifications. We prioritize the safety and durability of our products to ensure they withstand the demanding conditions of various work environments. Additionally, we understand the importance of customization. If you require specific dimensions or if you'd like to have your company logo prominently displayed on the mesh, our team can accommodate those requests.
Factory-direct powder-coated edge protection barrier
All edge protection mesh barriers from APAC are treated with a hot-dip galvanization process to enhance their durability and resistance to corrosion. This process involves immersing the panels in molten zinc, forming a protective zinc coating that safeguards against rust and external elements.
Furthermore, we offer the option of customizing the appearance of our edge protection mesh panels through a powder coating process. This technique involves applying a fine powder coating onto the galvanized surface of the mesh panels and then baking them at high temperatures. This not only enhances the aesthetic appeal of the panels but also provides an additional layer of protection against scratches and fading.
With our powder coating process, you have the freedom to choose any color you desire for your edge protection mesh panels. Whether you prefer a vibrant shade that matches your company's branding or a more subtle tone that blends seamlessly into the surroundings, we can accommodate your preferences.
If you would like to learn more about the electrostatic powder coating process and its benefits, we invite you to read our informative article on the subject. It covers the technical aspects of the process, the advantages it offers in terms of durability and aesthetics, and examples of successful applications.
Applications of temporary edge protection
The use of temporary edge protection systems is particularly important in the construction of high-rise buildings, which is an important product for the protection of workers, in addition to some concrete structures, steel structures, formwork structures and so on.
Temporary fence to Whitianga Town Centre,NZ
GS E&C T301 Project in Singapore
Edge Protection in Fort Worth, Texas
Temporary Roofing in Kitsilano Pool, CA
Parapet Edge Protection to SA, Australia
hot sale Edge Protection Systems
concrete structure
edge protection products
Full height
edge protection products
formwork structure
edge protection products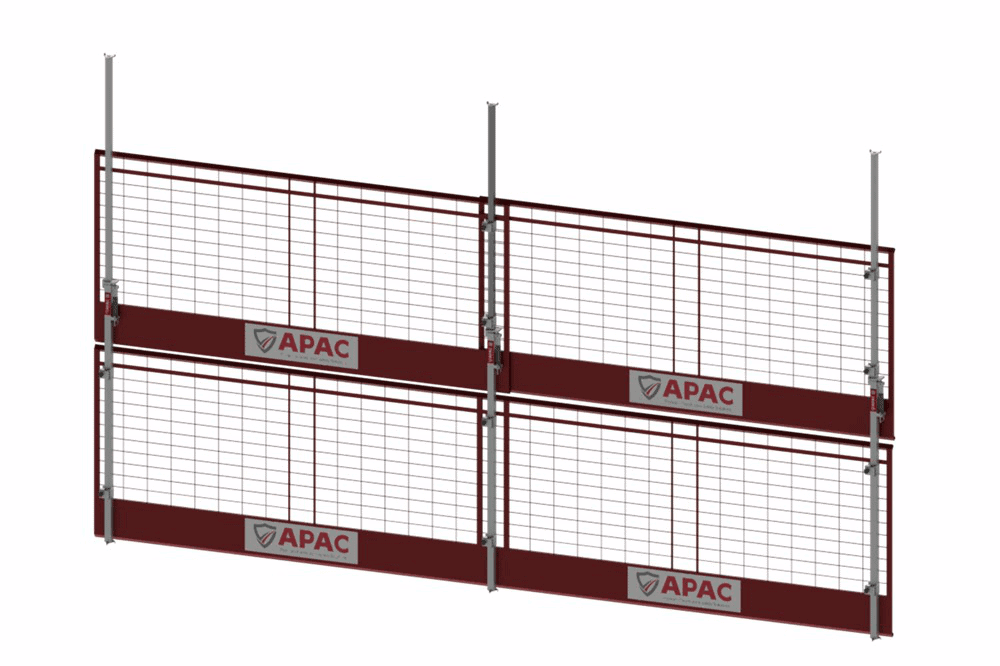 steel structure
edge protection products
Concrete stairwell
edge protection products
Guardrail System
fall protection products
Our job is to help organizations protect workers AT HEIGHTS
Choose our edge protection system is not only a smart decision for the safety of your workers, but also for the success of your project.
Our systems are easy to install, fully customizable, and compatible with a variety of other systems.
Don't hesitate to invest in the best edge protection system available and contact us today to get started!