construction fence for sale
construction fence for sale
We have a range of construction fence options generally used on construction sites and demolition sites and at outdoor events. 
Australia temporary fence
Australia Standard Removable Outdoor Temporary Construction Fencing Panels, which are convenient both in installation and movement. Durable hot-dipped galvanized steel wire material makes the temporary fence panel and the post has a long service life.
Canada Portable Temporary Fence Panels
Canada style temporary welded fence is a kind of very popular temporary fencing in Canada and North America. The key feature of the Canada mobile fence is the solid frame welded by square pipes, platy stable fencing feet, and p shaped top coupler. We have many choices of colors and finishes available in the most popular panel sizes.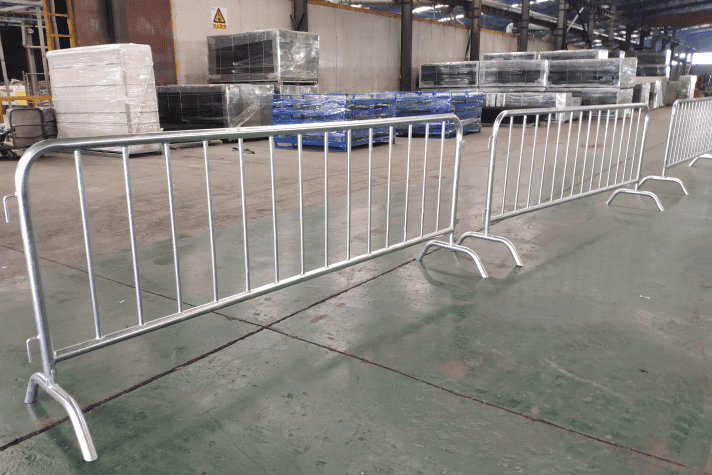 Pedestrian barriers are also called crowd control barriers, removable barriers, barricade,portable fence. Generally, it used to keep the public away from a designated area, or keep workers away from danagerous area on construction sites.
temporary chain link fence
Chain link temporary fencing, filled with chain link mesh wrapped on outer tubular frame, is another solution for crowd control, theft deterrent, assets protection, boundaries delineation even construction site security.
All the raw materials we use are tested before delivery by our QC department to ensure that they meet the required standards. We have a team of professional engineers, designers and technicians who are specialized in manufacturing all kinds of construction fence products.
We are committed to providing customers with high quality products and services at competitive prices.
surface treatment for you
All of our metal products undergo surface treatment before shipping in order to achieve color and corrosion resistance.
The most common treatment was powder coating, zinc galvanizing, and spray painting. We give pre-treatment of metal prior to treatment, to ensure the coating is durable and long-lasting.
Zinc Galvanizing
On steels, we offer both hot dip and cold galvanizing for zinc galvanizing.
Before galvanizing, metals have been soaked in a caustic bath.
Hot Dip – Steel immerses in a molten zinc bath to create durable and tough zinc alloy layers. It provides maximum corrosion protection for steel when used outdoors.
Cold – Zinc spays to steels at all angles at a controlled rate for required thickness. It provides basic corrosion protection for indoor applications.
In addition, we provide customized services and can choose different treatment methods according to the needs of customers.
We provide a range of temporary fences, if you want to know more specifications about our products, let's download our latest catalog!
Our temporary fence is sold all over the world, such as USA, Australia, New Zealand, Brazil, etc. Click the link below to see our projects.
If you still have questions about our products or want to know more information about our products, please contact us now, our expert will solve all your problems!