Welcome To APAC BUILDERS EQUIPMENT
temporary handrail systems
Temporary handrail systems are required by OSHA and are designed to provide fall protection for people who are working at height. These temporary safety railing systems are appropriate for construction, infrequent roof maintenance, and roof repairs. Take your teams' safety seriously and protect them with the appropriate construction railing system.
If you need assistance determining which system will work best for you, please contact our sales team.
types of temporary handrail system for sale
Temporary handrail system provides safe working conditions at height. APAC fall protection handrail is made of lightweight aluminum alloy, the removable fixings could help to move the handrail and keen rail up and down easily, and easier to install with lightweight and quick fixings, with 1.75m spans between posts, it will save installing time and cost-effective also. We provide a wide range of installation solutions, it could be fixed on the floor or parapet and it also could be installed on the roof without any drilling and screws.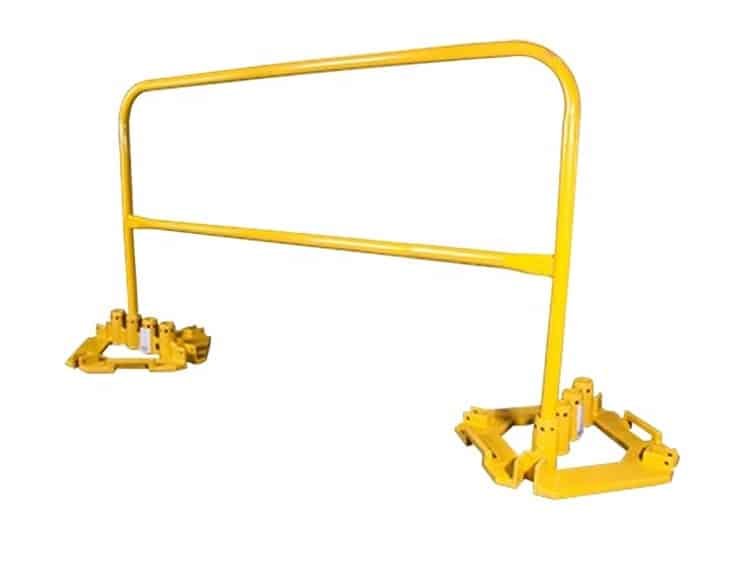 roof edge protection handrail
temporary handrail for stairs
Choose APAC handrail safety systems
APAC Temporary Handrail Systems is a totally versatile, safe, and easy to assemble roof edge protection system that saves both time and money. It is designed to create a temporary barrier at the roof edge without damage to the roof surface. Using a cantilever weight system the system provides full double handrail protection for all operatives working on, re-felting, and inspecting flat roofs.
If you and your project need temporary handrail system, please reach out to our team. We can help find the perfect solution for any worksites!

China #1 Edge Protection Systems manufacturer and supplier
Offers free design service and one-stop solution
Edge Protection Barriers maximum versatility to other brands
Fully edge protection solutions with interchangeable components
Capability to supply both bulk orders and smaller volumes
Samples in stock ready for delivery
Fast and efficient delivery to whole world
Let's start a new project together